Winning ARDA entries posted online.

Last week, the MondayMINUTE was proud to announced the firms recognized by the 2015 American Residential Design Awards. This week we invite you to view all of the winning projects on the ARDA awards program's Facebook page, www.Facebook.com/ResidentialDesignAwards.
---
A lunch & Learn this Friday in Palm Beach.
The AIBD Palm Beach chapter invites you to join them this Friday for their August Residential Industry Professional People Learning Event (RIPPLE). Smith and De Shields in Jupiter is graciously providing us their showroom and an AIA/AIBD approved presentation, Column Options for the 21st Century. A box lunch will also be provided.
Date: August 21, 2015
Time: 12:00 to 2:00 p.m. ET
Location: Smith & De Shields, 3126 Jupiter Park Drive, Jupiter, 33458, (561) 427-0808
Cost: $10 (AIBD members), $15
RSVP: steve.mickley@aibd.org (we really need to know how many box lunches to have)
Smith & De Shields offers an incomparable selection of interior/exterior doors, architectural accents, moulding and building supplies – everything you need to design a beautiful home.
CLICK HERE to schedule this same lunch & learn at your office or chapter meeting.
---
Ship with UPS and get a $25 give card.
It pays to be a member of American Institute of Building Design, and we're proud to bring you another opportunity to save. Save up to 34%1, plus 50%1 off select for up to four weeks after you enroll in the UPS® Savings Program. And, if you're a new UPS customer, you can receive a $25 Visa gift card2 just by enrolling and sending three qualifying air shipments or one qualifying international shipment on your account before October 31, 2015.
UPS has the solutions, services and know-how to help you get it done.
UPS delivers to more ZIP codes in the U.S. by 8:00am than FedEx
More guaranteed packages delivered on time and around the world than any other carrier
UPS delivers to more countries from the U.S. by 9:00am and before noon than anyone
To enroll, visit www.savewithups.com/aibd or call 1-800-MEMBERS (1-800-636-2377), M-F, 8 a.m. – 6 p.m. EST.
1Click here for specific services and discounts.
2Click here for terms and conditions of the gift card offer.
.
---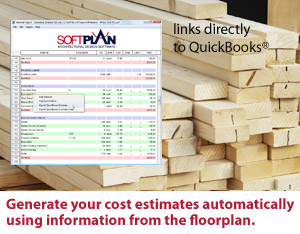 Webinar series: How to generate a material takeoff report.
The SoftList class will be held August 25 – 28.
Classes meet from 9:00 a.m. – 10:30 a.m. CST
SoftPlan's SoftList class will teach you how to get SoftList to count materials exactly the way you want. This class will be conducted using SoftPlan 2016.
You'll learn how to generate a Material Takeoff Report, analyze existing formulas, create new formulas, and much more, all from the convenience of your own office. At the end of the course you'll have the knowledge you need to win more jobs with better cost control. See a full itinerary and visit our website for more class offerings.
Each class is $195.00 per person. Classes fill up fast, register today.
phone 800-248-0164
email sales@softplan.com

---
What designers need to know about home buyer motivations.
If you have ever wondered what drives a home buyer to select a particular home look no further. The American Housing Survey provides insight into the home buying process, and NAHB economist Heather Taylor broke down the data in a recent Eye on Housing blog post.
The survey shows the top two reasons for choosing a home were its size (cited by 76% of buyers) and room layout/design (74%). The house's price and the neighborhood were each cited by 72% of home buyers.
For buyers of new homes, room layout/design, neighborhood, exterior appearance and construction quality tended to be even more important than for other types of buyers. Among first-time buyers, on the other hand, price was more often a consideration (see Graph 1 below).
View the full Eye on Housing blog post.
---