AIBD's First Tuesday @ 2:00 webinar program – What's going on with NCBDC?
Date: Tuesday, October 6, 2015
Time: 2

:00 pm

– 3

:00 pm EST

Cost: Complimentary
Join us for the American Institute of Building Design's First Tuesday @ 2:00 (p.m. ET) webinar program and get updated on the NCBDC's efforts to launch computer based testing and their progress on aligning with ANSI testing standards. Our guests are NCBDC President, John Fought and AIBD Executive Director, Steve Mickley. If you are currently an NCBDC candidate or if you've recently submitted your CPBD application package, you'll want to register for this webinar. If you're unable to attend, a link to download a recording will be sent to you 24 hours after the live presentation.
---
Strategic planning accomplished by Metro Atlanta Chapter.
On Wednesday, Sept. 30, the Metro Atlanta Chapter had its first meeting of the "old guard". This was a closed meeting to only current members and selected invitees. Present were the former board members of the state society in concert with the new Metro Chapter board and Metro Chapter members to include 5 new member candidates. Of the new member candidates, 2 are Students, 2 are Designers and one is a Landscape Architect.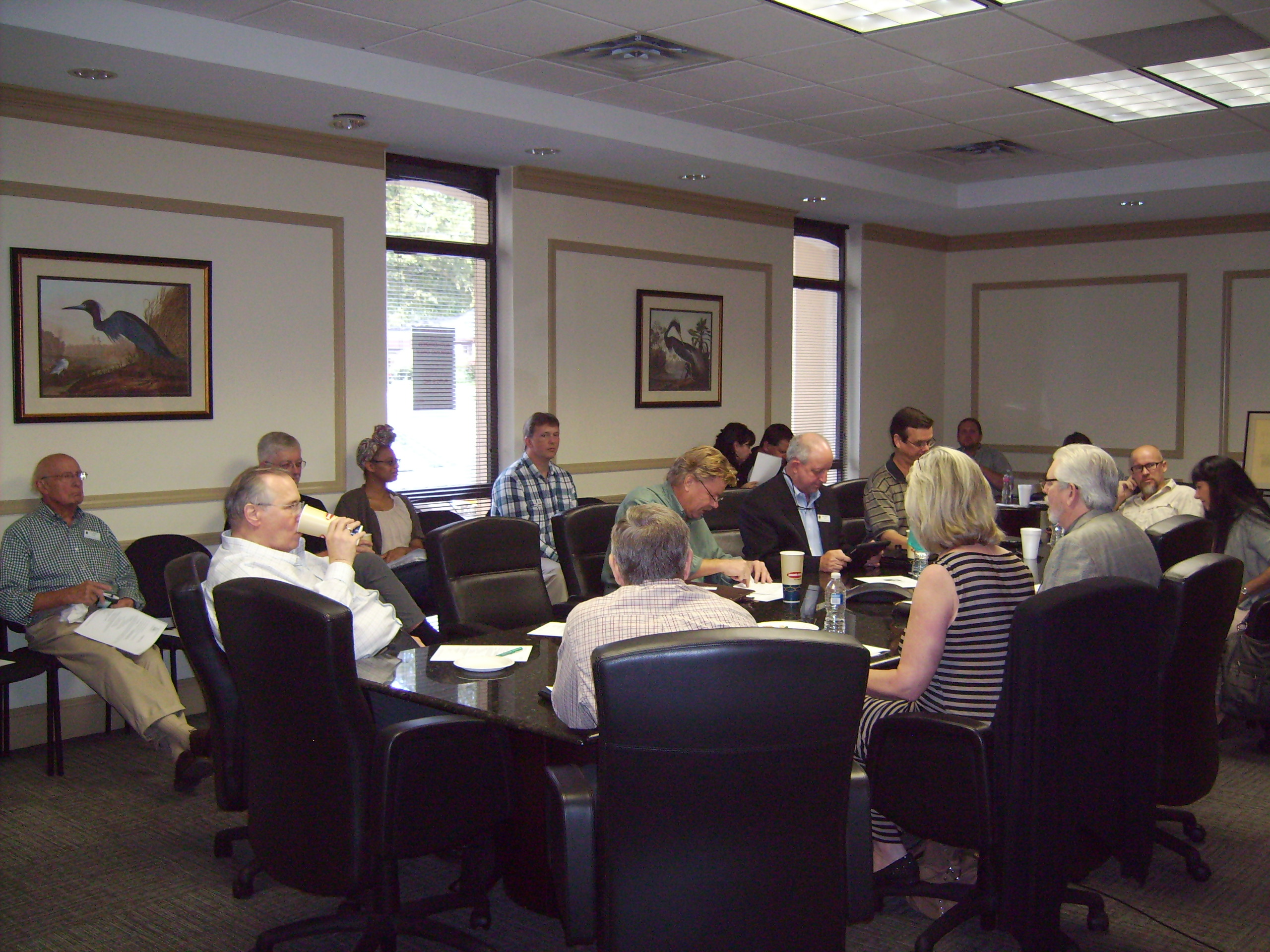 A lovely spread of food and drinks opened our inaugural meeting and first opportunity to share our vision for the future and conclude old business state wide. The group enjoyed their new permanent meeting facility hosted by our first major sponsor, State Bank & Trust.
The meeting was a definitive success and explored topics from student programs to sponsorship and all things in between. An outline plan for the future was presented and accepted with the formation of committees to address specific considerations in the next 30 days. Although lengthy, at nearly 3 hours, the group stayed focused and fresh with a renewed level of interaction and enthusiasm. Now we move ahead to our first open attendance meeting appropriately flagged "October +1". We are encouraging all current members to attend and bring at least one prospective member as their guest. All new sponsors will be in attendance and have an opportunity to meet the grateful membership they support.
CLICK HERE for more information about this month's "October +1" event.
---
Group names Louisiana AIBD member remodeler of the month.
SOURCE: The Advocate
John G. Guillory, of Custom Home Designs LLC, recently was named the National Association of Home Builders Remodeler of the Month for September 2015, a news release said.
Guillory is the founder and owner of Custom Home Designs, has been a member of the Capital Region Builders Association for over 10 years and was named the 2014 Remodelers Council of Greater Baton Rouge Member of the Year. He is the 2015 chairman of the Remodelers Council and a member of the American Institute of Building Design.
The NAHB Remodeler of the Month award program celebrates local, active remodelers for quality work, customer service, community involvement and dedication to furthering the industry. CONGRATULATIONS JOHN!
---
Reminder: Central Colorado Chapter meeting October 16th.
BY: Bernie Kern, chapter president
The AIBD Central Colorado Chapter has moved it's meeting to October 16th in Denver, CO. The half day event includes a presentation by Passive Home Design Build Practitioner, Cody Farmer. A Chapter meeting will follow including an organization meeting for a second Colorado Chapter.
Please contact AIBD Central Colorado Chapter President Bernie Kern bbkerndesigns@q.com for more details.
CLICK HERE for more info and to register.
---
AIBD Portsmouth Chapter meets tomorrow.
When: Tuesday October 6th from 10:30 am to 2:30 pm
Where: Panera Bread, 1684 Massachusetts Ave., Lexington, MA
What: Business meeting and historic home tours
Meeting Cost: Brunch at Panera + House tours = $15 for 3 house package ticket
Agenda: We'll meet at Panera Bread at 10:30 and will have a business meeting. We'll break for a quick brunch or lunch at some point during the meeting. At 11:45 we will carpool to the Hancock-Clarke House and start the 3-house historic tour. We should be done with the tour by 2:30 and will return to Panera to pick up our vehicles.
CLICK HERE to RSVP.
---
3D Rendering webinars start tomorrow.
Date: October 6 & 7, 2015
Time: 9:00 am – 12:00 am CST
Cost: $195
SoftPlan's 3D class is one of our most popular. You'll learn how to create beautiful, professional looking 3D renderings – a skill you'll be able to use to entice clients and set your business apart from the competition.
This class will be conducted using SoftPlan 2016.
You'll learn how to assign textures, add realistic 3D symbols, create a site plan, create an attractive kitchen rendering, and much more, all from the convenience of your own office. You'll also be able to ask the instructor questions and interact with the class.
Each class is $195.00 per person. See a full itinerary below and visit our website for more class offerings.
Classes fill up fast, register today.
phone 800-248-0164
email sales@softplan.com

---