AIBD Q2 financial report.
The American Institute of Building Design closed its second quarter December 31st. Total assets are up 17% compared to the same date in 2014. More importantly, the total net assets, including retained earnings, have increased by 57% during the same time period. These are the results of increased positive cash flows and a reduction in short term debt. Other factors include increased revenue and lowered expenses.
Design & Construction Week, registration only $125 until Saturday.
Get your Design & Construction Week (DCW) expo pass now for only $125 until January 16 and attend the industry's largest gathering of residential design and construction industry professionals, January 19-22 in Las Vegas. #DCW2016 features the co-location of @BuildersShow and @KitchenBathIndustryShow and your registration includes access to the exhibit floors of both shows as well as the floors of two partner events @vision.iwce and @TISEofficial – a total of 2,500+ exhibits! Register now at www.designandconstructionweek.com/AIBD
13 Trends that will transform small business in 2016.
SOURCE: Inc.com
In 2015, about 6.36 million small businesses were created. These new enterprises, along with the more than 50 million existing small businesses and freelance operations, will have to navigate a changing landscape in 2016.
With change comes risk, but forewarned is forearmed. To minimize your chances of an unpleasant surprise in 2016, read up on the 13 trends that have the potential to change the face of small business in the coming year.
Law, Politics, and Nature: El Nino, protests, and increases in minimum.
Cyber security: Small healthcare breaches, internet of things (IoT) breaches, and increasing cyber insurance costs.
Employment issues: The challenging of independent contractor status, race and gender employment actions, and the portable benefits movement.
Digital technology: Card-related data breaches, online (card-not-present) fraud, increased ad blocker usage, and HTTP/2.
Don't be intimidated by all the changes–they're par for the course. Small, agile businesses are well suited to adapt and outdo their bigger, slower competition on shifting ground, so use your edge to your advantage!
CLICK HERE to read the full article.
Institute of Classical Architecture & Art extend Arthur Ross Award nomination deadline.
NOMINATIONS DUE ON JANUARY 22
The deadline for Arthur Ross Award nominations has been extended to January 22, 2016. This year, we request that all nominations be submitted electronically. The nomination guidelines can be found online. Self-nominations from individuals, firms, institutions, and organizations are accepted. If you have questions, please contact Caroline Saudek at (212) 730-9646, ext. 102.
The Arthur Ross Awards celebrate excellence in the classical tradition and honor lifetime achievement, a career, or a body of work. Each year, the Arthur Ross Jury selects five recipients for awards from among the following categories:
Architecture
Artisanship • Craftsmanship
Community Design • Civic Design • City Planning
Education
Fine Arts: Painting • Sculpture • Mural Design • Rendering • Photography
History • Journalism • Criticism • Writing • Editing • Publishing
Interior Design
Landscape Design • Gardening
Patronage
Stewardship
Whirlpool discounts up to $200 to AIBD members.

CLICK HERE to check out the American Institute of Building Design's Inside Pass program through Whirlpool. Now, through the end of January, VIPs receive $25 off on purchases of $250 to $499 and up to $200 off on purchases of $2000 or more. In addition, get free delivery directly to your home on purchases of over $500.
Visit: www.WhirlpoolInsidePass.com and use your exclusive AIBD Group Code to register. Then enter the promo code: JAN2016 for additional savings.
Solve shear wall design issues with an industry leader.
The Hardy Frame Shear Wall System, a MiTek Builder Product, is the leading pre-fabricated shear wall in the residential and multi-family building industry. The strength, stiffness and ductility of the Hardy Frame System enables architectural design to maximize window and door openings without compromising the structural integrity to resist earthquake and wind loading. Hardy Frame Shear Walls are an excellent solution for soft-story retrofit applications.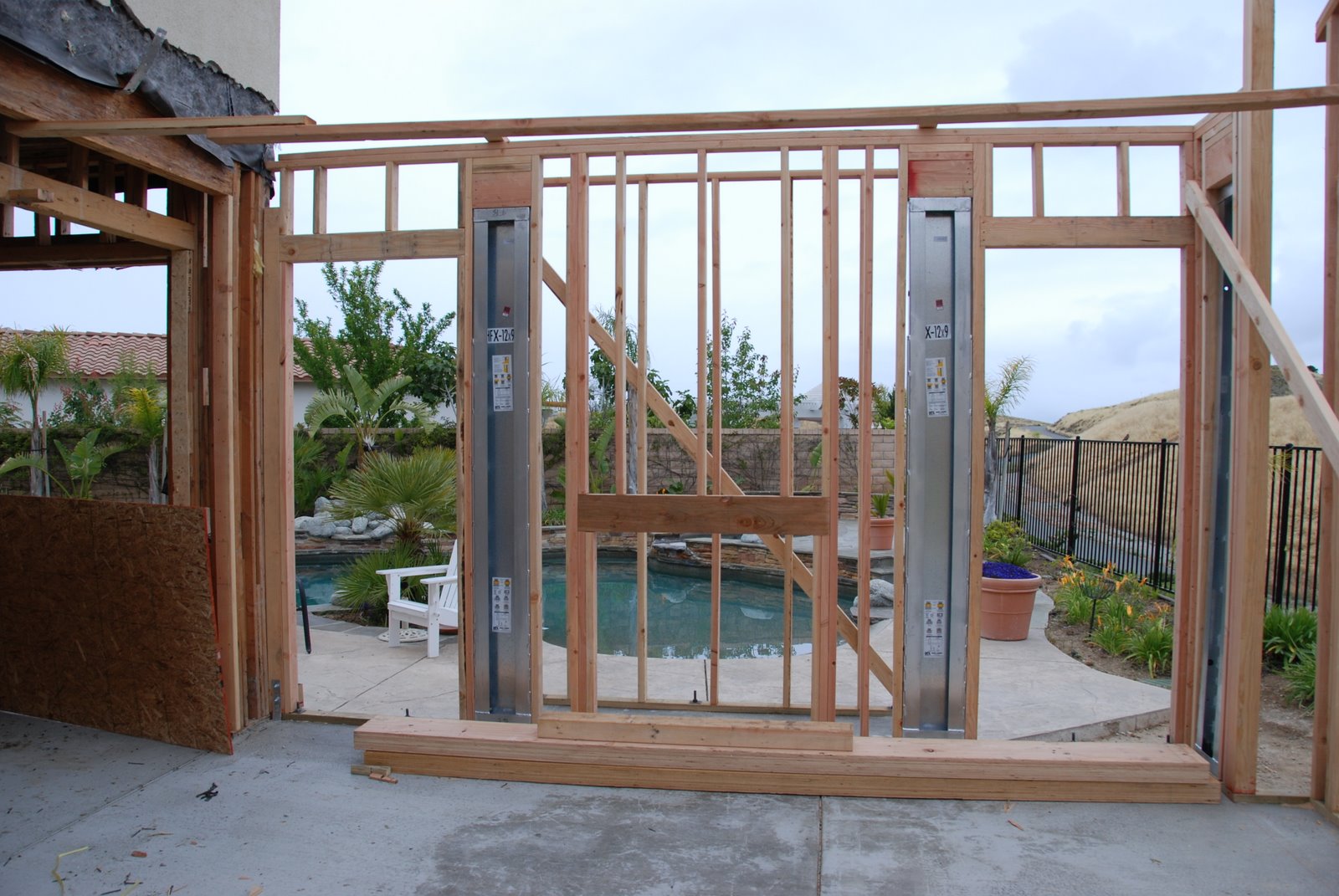 Our Shear Wall System is comprised of Panels, Brace Frames and Special Moment Frames. Panels are a light gage "C-Shape" available in 9 through 24 inch widths and light gage Brace Frames are rectangular with a single diagonal member available in 32 and 44 inch widths. Special Moment Frames are a structural steel product that can be custom engineered and made to job specific conditions.
Hardy Frame Panels and Brace Frames deliver the highest allowable loads when installed directly on concrete but they can be installed on various supporting services including raised and upper floor systems. Details for a wide variety of installations are available and are commonly included as "supplemental sheets" with plan submittals to the Building Department.
Size conundrum: What's the optimal size for new homes?
SOURCE: Builder
How big should a home be? For homebuyers, picking a proper sized home that will meet the needs of daily life without surpassing a certain budget can be difficult. For builders, building a home that doesn't sell well in the market—either because it's too big, or because the size has caused buyers with smaller budgets to be priced out, is equally disastrous.
A great way to avoid making such a mistake is to probe what other builders in the industry are doing, and what types of homes buyers are actually purchasing. One great source for gauging the size of homes being built is the Census Bureau's annual "Characteristics of New Single-Family Homes Completed" report, which compiles the average size of newly completed single-family homes and lots.
To offer insight on the average home and lot size being purchased by buyers, we've tapped Metrostudy to find out the average size of new homes/lots based only on closings. This allows a direct comparison of the size of homes being built, vs. the size of homes being bought.
CLICK HERE to read the full article.
Charlotte RIPPLE, Wednesday.
Date: January 13
Time: 11:30 am – 1:30 pm ET
Location: Red Rocks Café, 8712 Lindholm Dr, Huntersville, NC
Cost: Complimentary
CLICK HERE to download a registration form
Topic: Benefits of PreFinishing materials and Maintenance
Join us for a relaxing networking luncheon aimed at promoting uncompromising professional values, presenting important and challenging ideas /issues, and encouraging a culture of friendship and responsibility among industry professionals. Don't miss the opportunity to create new and cultivate previous business relationships. Lunch will be provided. Please RSVP by Tuesday 1/12/16
RSVP:
E-mail: kevin@kdhdesign.com
E-mail: jenny@pippinhomedesigns.com
E-mail: paul@PBCarchitect.com
Lunch & learn in Palm Beach, Friday.
Date: January 15
Time: 12:00 pm – 1:30 pm ET
Location: Coastal Windows & Doors, 8300 Resource Rd, Riviera Beach, FL 33404
Cost: Complimentary
CLICK HERE to download a registration form
The AIBD Palm Beach Chapter invites all residential industry professionals' to their January luncheon, courtesy of Coastal Windows & Doors in Riviera Beach, FL.
In addition to a tour of their showroom and a wonderful box lunch, the professionals at Coastal Windows and Doors will be presenting an one-hour Loewen Windows continuing education presentation. Loewen is an AIA CES Registered Provider and recognizes that continuing
education in residential building design is crucial to advancing and improving the profession. Loewen is pleased to provide the industry with continuing education to maintain competency, to prepare for the future, to fulfill the continuing education requirements for certification and frequently to renew state license requirements.
Coastal Windows and Doors, Inc. provides a wide selection of the highest quality windows and doors from fourteen of the top manufacturers in their fields to make your all your clients houses the homes they've been dreaming of.
Introduction to the GreenStar Homes Certification – Free CE Webinar this Wednesday.
Date: January 13
Time: 12:00 pm – 1:00 pm ET
Cost: Complimentary
CLICK HERE to register.
Formerly the MNGreenStar Program, GreenStar Homes Certification is your one-stop shop for renovations, additions and/or new construction projects on single family and multifamily homes.
In this course we cover
How to access and navigate the free user manual and online checklist.
The program process and costs.
How to become GreenStar Qualified and GreenHome Professional.
Where to find a GreenStar Rater.
Basic prerequisites and overall opportunities in the 5 key categories of green across the 7 systems of a home.
Quick comparison to other programs like LEED, Energy Star and NGBS
CLICK HERE to view more GreenHome Institute coming events.
Ask the Expert™ FREE seminar tour starts tomorrow – Maryland & Virginia locations.
Attention design professionals! You can earn continuing education credits by attending this seminar. Help maintain your professional credentials while learning valuable information about attic ventilation that will help you in your work.
This is not a sales presentation, it is a technical seminar – We are committed to helping roofing professionals like yourself improve their understanding of how to specify and install an effective attic ventilation system — whether you use our products or those of our competitors.
Attend and Air Vent, Inc. promises you'll leave with at least one tip you can use immediately and you'll enjoy a FREE meal, too!
CLICK HERE to view the 24 city 2016 schedule and to register for a seminar near you.
Your designs could make you money while you sleep.
Learn how to leverage contemporary digital marketing techniques to land more clients or sell your own plans online. Subscribe now to get started.