The architecture of a Thanksgiving dinner and how to navigate your table.
SOURCE: Architizer.com; by Alex Garkavenko
Before the reality of the family dinner truly kicks in, (and you remember why you stopped talking to that one cousin in the first place), it is important to approach the whole occasion with a strategy, providing yourself with an adequate safety net ahead of time. The same approach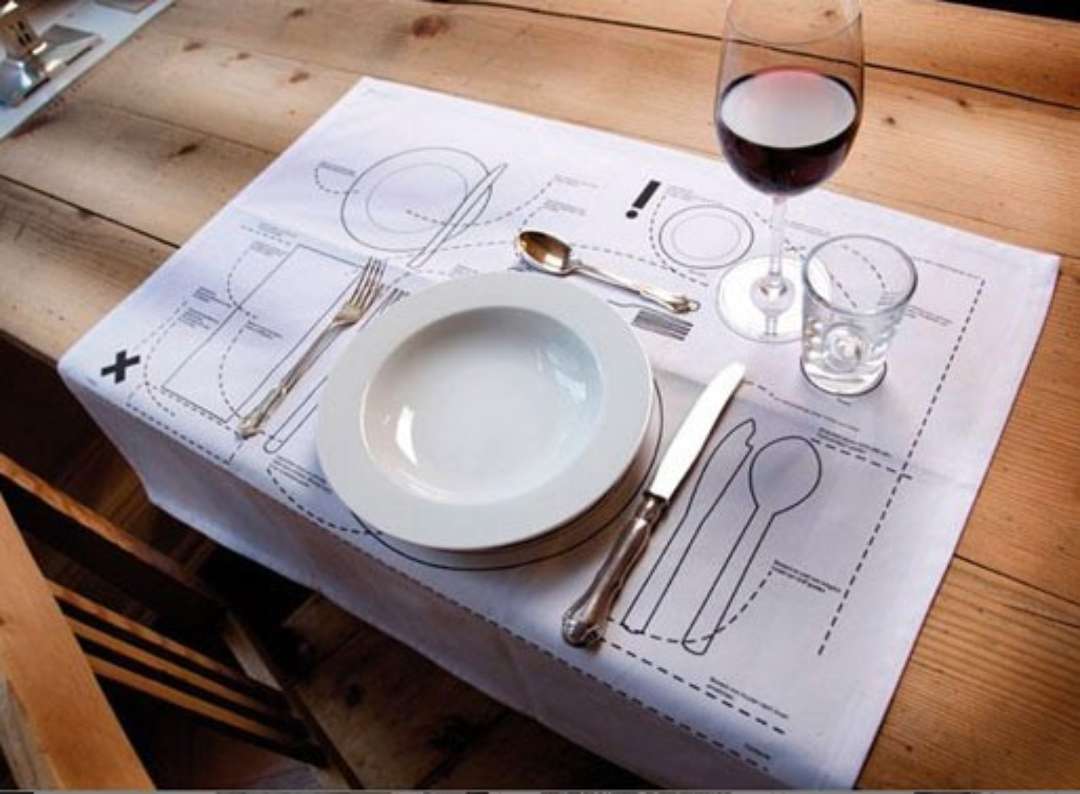 should apply for the Thanksgiving dinner table itself, which is the physical fulcrum around which the night revolves. Like for any ritualized structure, there are certain formal rules that that keep the archetype intact, and in this case, those rules come in the intricate formations and alignments of place-setting.
It's a little like urban planning, if you think about it – setting up the infrastructure, you can try to potentially predict and control how the night will play out. Is your table more of a top-down planned Corbusier, or a bit of a buffet-style Jane Jacobs, where the action happens in the common 'streets' of the table? You may think that we're kidding, but as any urban planner will tell you, layout matters, whether you choose to accept it or not.
To get you started, here are some basic measurements and laws by which the dinner table is typically run. It is up to you to break or follow the rules as you deem fit.
---
AIBD's holiday office hours:
Wednesday, November 25: 8:00 a.m. to 4:00 p.m. ET
Thursday, November 26: Closed
Friday, November 27: Closed
---
Register for next week's First Tuesday @ 2:00 webinar program.
Date: Tuesday, December 1, 2015
Time: 2

:00 pm

– 3

:00 pm EST

Cost: Complimentary
Join us for the American Institute of Building Design's First Tuesday @ 2:00 (p.m. ET) webinar program, titled Today's Vinyl Siding: Exceeding Expectations. Whether it's the simple beauty of the Cape Cod with its distinctive cedar shakes or the vastly eclectic look of a Queen Anne with its gabled façades and ornate embellishments, polymer-based solutions are up to the task.
Join us to learn how high-tech engineering, quality manufacturing, and an unparalleled choice of shapes, profiles, soffit, trim, accessories, finishes, and colors have made vinyl siding the number one choice for recreating or customizing styles from classic to modern.
Presented by author and home builder Fernando Pages Ruiz and the Vinyl Siding Institute's Matt Dobson.
CLICK HERE to register (feel free to share this link with others).
---
Two new local AIBD chapters approved.
At their last meeting,
the AIBD Board of Directors approved the AIBD, Los Angeles Chapter and the AIBD, South Carolina Midlands Chapter (centered primarily on Columbia, SC). Leading the LA Chapter is Yu-Ngok Lo, an architect and  AIBD board member who joined AIBD in April, 2015. James Edward Smith is president of the SC Midlands Chapter. He is with Great Southern Homes, a leading builder in the South Carolina housing market.
On the December agenda, the board of directors will be reviewing the AIBD Down East Chapter who will be representing the Greenville, NC to Morehead City and Rocky Mt., Wilson and Elizabeth City.
---
An AIBD member's home makeover: In progress.
AIBD Internal VP, Kevin Holdridge designed a remodel for Southern Cottage on Queen's Road West near Charlotte, NC. The entire project became a six-part expose by WCNC, the Charlotte NBC affiliate. Here are each of the six parts…
Episode 1:

Episode 2:

Episode 3:

Episode 4:

Episode 5:

Episode 6:

---
NCBDC launches computer based testing.
This week marks a huge milestone for AIBD and its national certification program, NCBDC began offering limited retake exams online with candidates who have already taken the full roster of CPBD exams but have specific exams still remaining to pass. "Our first attempt
went well but revealed a few shortcomings." Says Steve Mickley, Executive Director. "We have worked through those issues, as well as some issues with the candidate and proctor login pages and we have enough retakes scheduled this week to confirm we have them resolved."
Anyone who has been approved to sit for the CPBD exams and either hasn't started yet or has tests to retake, can set up their testing profile at www.CPBD.info/testlogin (click "register"). Once you have set up your profile, contact Steve Mickley for assistance scheduling your first exam or next retake. He would like to BETA test each of the eight exams at least once before handing the reigns off to our third party proctoring service and pointing everyone to the log in page to register and purchase exams directly, 24/7.
Call 1-800-366-2423 or write steve.mickley@aibd.org.
---
Design & Construction Week extends early bird discount.
AIBD members: The early bird deadline to attend Design & Construction Week 2016 has been extended! DCW features the co-location of @BuildersShow and @KitchenBathIndustryShow. Register by December 4 and join 110,000+ residential design and construction industry professionals, January 19-22 in Las Vegas for only $75. designandconstructionweek.com/AIBD #DCW2016
---
Lenovo holiday kick off sale for AIBD.
Start your holiday shopping early with Lenovo in November! AIBD members can take advantage of INSTANT SAVINGS, plus FREE shipping on all web orders! Get 41% off select Lenovo Laptops, 37% off select Lenovo Desktops and 34% off select Lenovo Tablets. Visit www.lenovo.com/lsp or call 1-800-426-7235, ext. 3569. Weekly Promotions are also available… Visit often to see what's new!
---
q