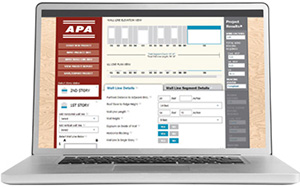 Online calculator automates wall bracing.
Among the hundreds of provisions of the International Residential Code, wall bracing remains one of the most intimidating. APA's new Wall Line Bracing Calculator aims to ease some of that burden by automating the process and bringing designers, installers, and code officials onto the same page. Using a straightforward, step-by-step process, the online tool walks designers through the evaluation in real time to ensure proper bracing is not only achieved, but also properly communicated to the team. Read More…
---
2015 Ask the Expert™ Seminar registrations open.
THE Seminar Talked About Every Winter—And You're Invited!
At Air Vent's Ask the Expert™ seminar you can:
Overcome homeowner objections including price.
Learn field-tested strategies to explain the need for attic ventilation.
See the most common specification/installation mistakes (and costly callbacks) to avoid.
Please join the thousands of roofing pros who have contributed to and benefitted from Air Vent's educational Attic Ventilation: Ask the Expert™ seminar since 1998. And don't miss the FREE meal!
This is not a sales presentation. It is a technical seminar. We are committed to helping building professionals like yourself improve their understanding of how to specify and install an effective attic ventilation system—whether you use our products or those of our competitors.
CLICK HERE to view the scheduled locations and to register.
---
Now accepting nominations for the 34th annual Arthur Ross Awards.
The Institute of Classical Architecture and Art is pleased to announce that the revised guidelines for the annual Arthur Ross Awards have been posted on thier website.
Beginning this year – and in acknowledgement of the prestigious nature of this award – they are no longer requiring an application fee. They are also requesting that all submissions be made in the form of nominations and submitted electronically. Self-nominations from individuals, firms, institutions, and organizations are accepted.
The deadline to submit a nomination for the 34th annual Arthur Ross Awards is Thursday, January 15, 2015.
The ICAA hopes that you will share this information with any eligible candidates that you know in our award categories:
Architecture
Artisanship • Craftsmanship
Community Design • Civic Design • City Planning
Education
Fine Arts: Painting • Sculpture • Mural Design • Rendering • Photography
History • Journalism • Criticism • Writing • Editing • Publishing
Interior Design
Landscape Design • Gardening
Patronage (for the support of a new project, collection, or body of work)
Stewardship (for Historic Preservation or the upkeep and maintenance of an
existing entity)
Please consult the ICAA website for additional information on submitting a nomination.
---
---
More events ahead.
December 15 – Certified Vinyl Siding: Engineered Enhanced Beauty (Webinar)
December 17 – Certified Vinyl Siding: Verifiably Green (Webinar)
December 24, 25 & 26 – AIBD & NCBDC office is closed.
January 1 & 2 – AIBD & NCBDC offices are closed.
January 13 – Air Vent's Ask the Expert Ventilation Seminar, Tinley Park, IL
January 14 – Air Vent's Ask the Expert Ventilation Seminar, Schamburg, IL
January 16-17 – NCBDC Certified Professional Building Designer exam event, Houston, TX
January 20 – Air Vent's Ask the Expert Ventilation Seminar, Raleigh, NC
January 20-22 – International Building Show, Las Vegas, NV (Visit AIBD's booth in the Grand Lobby)
January 21 – Air Vent's Ask the Expert Ventilation Seminar, Atlanta, GA
January 23 – AIBD House of Delegates Mid-year Meeting, Las Vegas, NV
January 27 – Air Vent's Ask the Expert Ventilation Seminar, Lincoln, NE
January 28 – Air Vent's Ask the Expert Ventilation Seminar, Topeka, KS
January 29 – Air Vent's Ask the Expert Ventilation Seminar, St. Louis, MO
February 3 – Air Vent's Ask the Expert Ventilation Seminar, Denver, CO
February 5 – Air Vent's Ask the Expert Ventilation Seminar, Honolulu, HI
February 11 – Air Vent's Ask the Expert Ventilation Seminar, Springfield, VA
February 12 – Air Vent's Ask the Expert Ventilation Seminar, Frazer, PA
February 17 – Air Vent's Ask the Expert Ventilation Seminar, Milwaukee, WI
February 18 – Air Vent's Ask the Expert Ventilation Seminar, Bloomington, MN
March 3 – Air Vent's Ask the Expert Ventilation Seminar, Vaughan, Ontario
March 4 – Air Vent's Ask the Expert Ventilation Seminar, Sterling Heights, MI
March 5 – Air Vent's Ask the Expert Ventilation Seminar, Spring Lake, MI
March 6-8 – AIBD North Carolina/South Carolina Annual Conference, North Myrtle Beach, SC
March 10 – Air Vent's Ask the Expert Ventilation Seminar, Buffalo, NY
March 11 – Air Vent's Ask the Expert Ventilation Seminar, Independence, OH
March 12 – Air Vent's Ask the Expert Ventilation Seminar, Worthington, OH
March 13 – Air Vent's Ask the Expert Ventilation Seminar, Indianapolis, IN
March 18 – Air Vent's Ask the Expert Ventilation Seminar, Oklahoma City, OK
March 20 – Air Vent's Ask the Expert Ventilation Seminar, Dallas, TX
March 25-27 – AIBD California Annual Conference, Skyline College, San Bruno, CA
August 3 – 6 – AIBD National Convention and Interactive Conference on Residential Design, Providence, RI