---
Global Choice voting closes Thursday night!

Help choose the American Residential Design Award's Global Choice Award winner. Beginning now and going through August 6, 2015, you can click the link below to view the 2015 Global Choice entries. Set aside a few moments and vote for your favorite. Then make plans to be on hand at the AIBD Awards Gala on August 7th in Providence, Rhode Island. That's when all the ARDA winners will be announced!
CLICK HERE to view the 2015 Global Choice Award entries and place your vote!
---

AIBD's Annual Conference begins tomorrow.
Anyone wanting to attend can still register on site. The conference is being held at the Omni Providence Hotel, 1 West Exchange Street, Providence, RI. The line-up of speakers is the best it's been in years. To learn more about what's happening this week in Providence, visit the conference website: www.AIBDConvention.com
CLICK HERE to follow the events as members post them in the AIBD Facebook group.
AIBD's office is closed August 3 through 7.
More accurately, the office and their staff have relocated to the AIBD Annual Conference. All the essentials have been relocated except the phones. Emails and messages will be received and answered while staff members are facilitating meetings and social events at the convention. Thanks for your patience!
---
Making room, that's caring…Whirlpool makes caring easier.
All Appliance Brands 10% OFF orders $199 and up! – PLUS Free Delivery on orders $699 and up!
Use promo code 199SAVE at checkout (one promo code per order)
CLICK HERE to download a flyer.
Offer valid August 1-31, 2015
Visit www.whirlpoolinsidepass.com now to start saving on your trusted appliance brands from Whirlpool, Maytag, KitchenAid, Amana and Gladiator GarageWorks!
---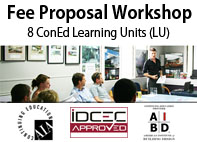 Friday's fee proposal writing workshop still has room.
Of the three workshops offered this week, tomorrow's in San Francisco and Thursday's in Seattle have both filled up. However the Friday workshop in Pheonix, AZ is still accepting registrations.
CLICK HERE to view the full schedule.
Next week there are three more workshops where you can learn from two internationally renowned fee proposal writing experts. They will be delivering courses in San Diego, San Francisco and Los Angeles. Click the link above to learn more.
Attendees will learn how to write proposals that; increase fee levels, raise conversion rates and avoid scope creep. 85% of attendees say it is the most useful ConEd course they've attended, 99% of attendees say they would recommend the workshop to all design professionals. Workshop is limited to 16 attendees per venue – AIBD members use promotional code "AIBD" and save 10%.
(Blue Turtle is an approved AIBD CEP and 8.0 Primary CE units are awarded for attending this program)
To read more (venues, dates, pricing, bios, registration): http://blueturtlemc.com/USA-workshops. Please contact Emily with any questions you may have: Emily@blueturtlemc.com or (646) 820 8911
---
Check out the Ron Blank GreenCE August webinar calendar.
Ron Blank & Associates, Inc. and its affiliates are leading providers of continuing education for building design professionals, through online courses, Lunch & Learns, webinars, and CE Academies. RBA physically meets with design professionals in over 50 different markets accross the U.S. every year through their architectural specification program.
CLICK HERE to view the descriptions of all five live (free) webinars in August, 2015.
---
Back to school savings from Lenovo.

Lenovo is providing Back to School savings in August! Whether you are academic, social, design-minded, gamer, chill or on a budget Lenovo has something for all! Get Instant Savings of up to 38% off Lenovo's laptop, tablets, desktops and more! Plus, get FREE shipping on all web orders.
Take advantage of these special offers until August 31, 2015:
38% off the Lenovo Flex 3 14" Laptop– the slim, light and stylish laptop with 360° flexibility
24% off the Lenovo Tablet 2 A7-30 – the Android tablet with a colorful, slim and light design
20% off the ThinkCentre M73 Tiny Desktop (tower) – space-saving, powerful, and reliable
15% off the ThinkPad T450s Laptop – the slim 14" Ultrabook from the award-winning ThinkPad line
To check out the latest and greatest in Lenovo technology, visit www.lenovo.com/lsp or call 1-800-426-7235, ext. 3569 (M-F: 9am-9pm EST, Sat: 9am-6pm EST). Be sure to check the website often – special offers change frequently. Think School. Think Savings. Think Lenovo.
---
More events ahead..