Reducing the risk of Error or Omission.
CLICK HERE for more information and to register!
Design professionals are vulnerable to lawsuits due to their roles as trusted advisers and to the many professional and technical obligations they must adhere to. Join us for the American Institute of Building Design's First Tuesday @ 2:00 (p.m. EDT) webinar and learn from a team of insurance professionals how to reduce your risk of a real or alleged error or omission, learn about the various exposures that design professionals face, be exposed to some claim examples, and ask about the coverages available.
This month's First Tuesday @2:00 program is partnering with Construct-Ed.com. Construct-Ed will be moderating the webinar and posting a recorded version on their website for complimentary viewing by AIBD members. Those who are not members of AIBD will be charged a small fee.
Construct-Ed.com provides on-demand training so professionals can train at home, in the office, on the job – basically wherever they have a device with Internet access. What's unique about Construct-Ed is that it isn't just a repository of courses for building and design professionals. Yes, taking training courses is a major element of Construct-Ed, but the website is also a place where industry experts can share their training and turn it into online courses.
CLICK HERE for more information and to register!
When: Tuesday, June 7, 2016
Time: 2:00 p.m. to 3:00 p.m. EDT.
Cost: Complimentary
---
ARDA entries due July 15th – register in advance!
The ARDA program promotes innovation, creativity, excellence and sheer possibility. Who doesn't want to be aligned with those? And winning, of course, brings validation and acclaim. But it's not all about the glory. There is actually a business case to be made for entering an awards program—whether you you are recognized or not.
CLICK HERE to download the list of categories and entry requirements.
CLICK HERE to download your registration form.
Free webinar – How to put together a winning ARDA entry.
Download a one hour tutorial presented by long-time ARDA judge and personal house plans marketing consultant, Hillary Gottemoeller. In this video, Hillary shares examples of the good, the bad and the ugly. You deserve the credit, invest 60 minutes and learn how other ARDA winners earned it.
CLICK HERE to watch the video.
---

2016 Summer Conference to open with popular "Idea Swap" session.
Join us at the next AIBD conference for a fast paced and energetic discussion about building design(er) issues. Pre-registrants will have an opportunity to provide agenda topics on issues they may currently be facing in their practice. Their topics will be addressed by participants in a round table format. This is a fun, casual environment where you can meet new people and learn at the same time! And the conversations won't end at the door. The "Idea Swap" is the opening session of a three-day conference including two days of educational sessions, an architectural tour and the American Residential Design Awards dinner.
CLICK HERE to link to the AIBD 2016 Summer Conference webpage. Registration will be open soon!
---
Welcome new AIBD members!
Please help us welcome those who joined or rejoined AIBD this past week. We would also like to celebrate Bob Fredley's change of membership status. Although he's being listed as a new member below, Bob has left retirement and reenlisted as a certified Professional member.
James Allison
Bob Fredley
TX
CO
Professional
Professional
We are pleased you have chosen AIBD as a resource for professional and personal growth. Membership provides technical information, advocacy, professional networking opportunities, as well as participate in programming sessions offered at various conferences throughout the year. All designed to help advance your career.
Visit "SearchHomeDesigners.com" to reach out and exchange information with other professionals in the building designer industry supporting the AIBD mission.
---
Announcing the new William P. Dingledy Award!
At their monthly meeting last week, the AIBD Board of Directors approved a new membership recruitment award program titled the William P. Dingledy Award (Bill "Ding" Award, for short). Formally known as the "3-4-FREE Program," The Bill Ding Award is expanded to included free renewal dues awarded to Professional members who recruit new dues paying Corporate members too.
Originally, the 3-4-FREE program awarded a free year of membership to all Professional members who are noted as the sponsor or recruiter of three new dues paying Professional members during the AIBD fiscal year (July 1 through June 30). The Bill Ding Award still offers this recruitment award, as well as a free year of membership for Professional members recruiting just one new dues paying Corporate member within the fiscal year.
The proposed change to the 3-4-Free Program was drafted by AIBD Board Member Bernie Kern (CO).
"Because we've added awards for recruiting just one Corporate member, the 3-4-FREE name just doesn't seem to apply anymore." Says AIBD Executive Director Steve Mickley. "I think naming the award after AIBD's first president is an exquisite bit of nostalgia. Particularly because of how it promotes both building the organization and the hard work that it took to start the Institute." Steve added.
The use of Bill Dingledy's name was an idea proposed by AIBD Membership Services Coordinator Eric Nielsen. Who unfortunately has resigned his position at AIBD to pursue greater interests. Shortening it to Bill "Ding" award not only annotates the reason for the recognition – building the Institute via membership. But is also the way William Dingledy used to creatively market his company as Bill Ding Design.
---
Board approves 2016-2017 budget.
The 2016-2017 Operating Budget budget proposed by the Finance Committee was approved last week by the Board of Directors without modifications. The AIBD budget, which begins July 1st, also includes an annual budget submitted by the National Council of Building Designer Certification (NCBDC), a designated body within AIBD. The NCBDC budget was also approved without modification.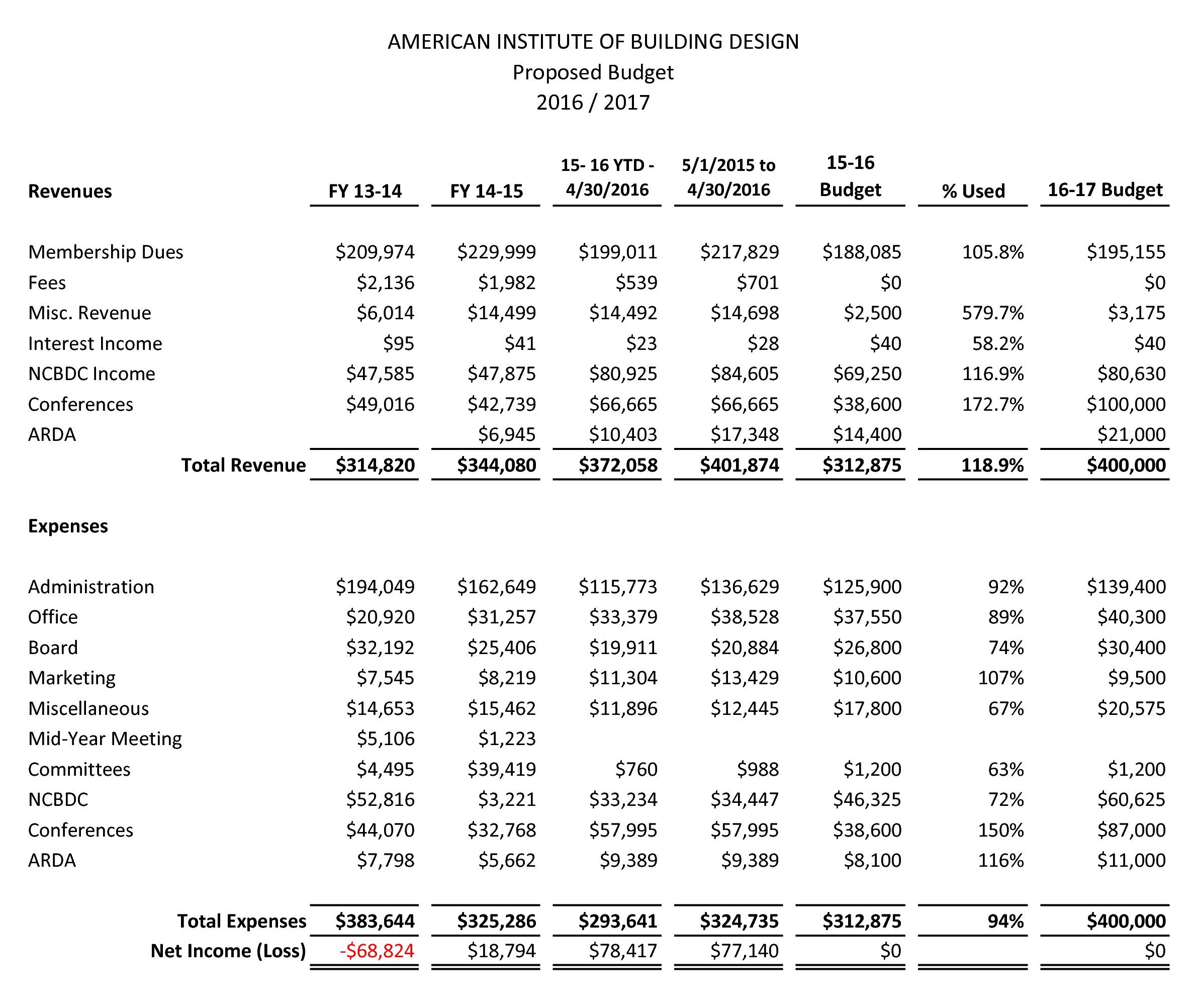 ---
Charlotte Metro Chapter lunch & learn, this Wednesday.
Building Proportions and the golden ratio of design *Easy ways to find errors*
Not sure what's a little "off" about a home design? It could be you need to do some math. Whether in nature, art, or building design, there are certain rules and ratios that can account for an aesthetically pleasing composition. Mathematicians have studied the "golden ratio" for thousands of years. This golden ratio appears everywhere and can be calculated with formulas, number sequences, and even displayed graphically.
Join the Charlotte Metro Chapter for this presentation by American Residential Design Awards winner and certified AIBD Professional member Kevin Holdridge.
CLICK HERE to read more…
Date: Saturday, June 11, 2016
Time: 11:30 a.m. to 1:30 a.m. EDT
Location: Fox and Hound – 8711 Lindholm Drive, Huntersville, NC
Cost: Complimentary
RSVP: Contact Kevin Holdridge – Kevin@kdhdesign.com or Jennifer Pippin – Jenny@pippinhomedesigns.com
---
Tampa chapter breakfast and seminar, this Saturday.
Learn the benefits and affordability of solar power and Federal incentives awarded for installing solar power. Go into the office the following Monday morning with important knowledge of Zero Energy home design, energy storage solutions and how to integrate solar power into roof systems. The presentation and breakfast is sponsored by Solar Energy Management, Inc.
Date: Saturday, June 11, 2016
Time: 9:00 to 11:00 a.m. EDT
Location: Solar Energy Management, 3751 62nd Ave North, Pinellas Park, FL 33781
Cost: Complimentary
RSVP: Contact Tim Roney by June 6th, tim@roneydesign.com
---
Shreveport chapter lunch meeting, June 14th.
Enjoy a laid-back relaxing open discussion with other residential industry professionals.
Date: Tuesday, June 14, 2016
Location: Trejos Mexican Restaurant – 5815 Youree Dr, Shreveport, LA 71105
Time:

11:30 a.m. to 1:00 p.m. CDT

Cost: Lunch is on your own.
RSVP: Contact Scott Phillips, email – scott@phillipsplans.com
---
Portsmouth chapter meeting, June 22nd.
Enjoy a guided tour of one of the best granite warehouses in the nation with the Boston Granite Exchange's general manager and their professional design assistant. After the tour, meet in their conference room for the annual business meeting.
For those who can get there early, meet for lunch right around the corner from the granite exchange. Cost of lunch is out of pocket.
Date: Wednesday, June 22, 2016
Tour Location: The Boston Granite Exchange 1 Parkridge Road Haverhill, MA (978) 372-8300
Lunch Location: Fresco Beignet Cafe 34 Rogers Road Haverhill, MA (978) 241-4196
Time:

(LUNCH) 12:00 to 1:00 p.m. EDT; (TOUR) 1:00 to 3:00 p.m.

Cost: Tour is Complimentary, lunch is on your own.
RSVP: Contact Kathryn Joiner, email – kjoiner@megalink.net
---
Construction Conundrum.
SOURCE: Elliot F. Eisenberg, Ph.D, the bow tie economist
In 2015, construction added 222,000 jobs, 9% of all new jobs, and behind only the retail, food, professional services and healthcare sectors, all of which are much bigger than construction. Thus, construction was the sector with the largest percentage employment growth in 2015 and Y-o-Y. Yet Y-o-Y construction wage growth has been just 2.2%, about average! Were there a real labor shortage, wage growth would have been significantly higher.
Elliot Eisenberg, Ph.D. is a nationally acclaimed economist and public speaker specializing in making the arcana and minutia of economics fun, relevant and educational.
---
AIBD scholarships available until June 30th.
Student members and children of Professional members qualify for scholarships.
The American Institute of Building Design's College of Fellows awards two scholarships each year, the College of Fellows Memorial Scholarship and the Annette Farmer Memorial Scholarship. Each scholarship recipient is awarded $1000 and they are named at the American Residential Design Awards Gala, August 27, 2016 at the Colorado State Governor's Residence in Denver, CO. The deadline to apply is June 30, 2013.
For more information, qualifications and applications, CLICK HERE.
---
Do more with less … faster.
As externals begin to sway in favor of housing's next leg of recovery, the moment to kick up the operational focus is now.
SOURCE: Builder
Housing's recovery is undeniable. It looks like this
Home building's role in the housing recovery–conspicuous mostly by the absence of new lower-priced homes–has become clear to almost everyone now, as existing single-family home prices nudge back up–nationally–to just 4% shy of their prior peak levels.
2016 may mark the year builders begin to find the up-to-now unapparent sweet spot for younger, more financially challenged would-be buyers fleeing rapidly rising rents and willing to travel an extra 20 to 30 minutes to get to work to do that.
---

AIBD members, work and life never stand still….. Neither should your PC! Now is the time to upgrade and save instantly up to 38% off Select Lenovo PC Desktops, Laptops, Tablets, and Accessories that keep you in motion.
Visit: www.lenovo.com/lsp
Call: 1-800-426-7235, ext. 3569 (M-F: 9am-9pm EST, Sat: 9am-6pm EST)
---
College of Fellows seeks 2016 inductees – deadline June 30th.
The AIBD College of Fellows has announced they will be performing an induction ceremony at the American Residential Design Awards dinner at the Colorado Governor's Mansion in Denver, CO on August 27, 2016. Nominations for Fellows are accepted at any time but to be considered for the coming induction, nominations must be in on or before June 30, 2016. Only AIBD Professional members may nominate another member for consideration.
The honor of membership in the College of Fellows is bestowed upon a Professional member of the American Institute of Building Design who is certified by the National Council of Building Designer Certification and has notably contributed to the advancement of the building design profession by excellence in design, or by excellence in design in combination with excellence in education, literature or public service.
CLICK HERE to download a nomination package or contact the College of Fellows Chancellor Jannis Vann by writing college@AIBDmember.org.
---