Introducing four new AIBD chapters!

A their monthly meeting last Wednesday, the AIBD Board of Directors reviewed applications for five new regional chapters and approved four; three of whom are in Florida and one in New Hampshire.
AIBD, Central Florida Chapter – President: Joe Sirilla
AIBD, Portsmouth Chapter – President: Kathryn Joiner, CPBD
AIBD, Southwest Florida Chapter – President: Gabriel Orengo, CPBD
AIBD, Tampa Bay Chapter – President: Tim Roney, CPBD
Including these new charters, AIBD already claims nine professional chapters and two student chapters before the official July 1 launch of the new AIBD affiliate program.
Interested in starting a chapter in your area? CLICK HERE to download a 'how-to' brochure.
---

Hotel reservations are open!
CLICK HERE to reserve your hotel room at the Omni Provicence hotel. AIBD's special rate is $165/night (plus taxes and fees). A limited number of rooms have been set aside. The AIBD rate ends when the block is sold out or July 3, 2015 arrives, whichever comes first.
Visit www.AIBDconvention.com to view the conference schedule and to get information about the event as it becomes available.
---
The building design industry needs your help!
The National Council of Building Designer Certification would like to invite you to give back to the design profession by participating in the NCBDC Job Analysis Study. The Job Analysis Study examines the work done by building designers, as well as the knowledge and skills needed to perform this work. The study forms the basis for the CPBD examination, relating what is covered on the certification test directly back to professional practice.
Neither membership in AIBD or current certification by NCBDC is required to volunteer.
This volunteer opportunity allows you to participate as a member of the Job Analysis Study Subject Matter Expert Task Force. This role involves a commitment from July – August 2015. The role involves the following activities:
Participating in a two-day in person meeting on July 10 & 11, 2015 in Baltimore, MD, with no more than four hours of pre-work during the week prior to the meeting. This meeting is dedicated to the development of the Role and Function Survey Instrument. Volunteers are expected to handle their own travel and hotel arrangements/expenses. NCBDC will provide transportation to and from the hotel as well as food and beverage during the two days there.
Reviewing the materials generated by the face to face meeting, requiring approximately two hours.
Participating in two web conferences subsequent to the in person meeting, each running approximately three hours.
This volunteer activity provides you an opportunity to directly affect the future of the CPBD examination, while networking with colleagues and learning more about professional practice in various practice settings.
If you are interested in this opportunity, please reply to the AIBD national office by June 22nd. When you reply, please mention whether you are able to participate in the in-person meeting on July 10 & 11, 2015.
---
Enter the 2015 American Residential Awards.
CLICK HERE to download the ARDA registration form.
Deadline to register AND enter your projects – July 10, 2015
The American Residential Design Awards (ARDA) is the American Institute of Building Design's premier award program exhibiting design excellence in the residential building industry. It spotlights the most creative and innovative residential designers, builders, remodelers, architects, developers, land planners and interior designers in the nation. Every year, the awards program, sponsored by Hanley Wood's ePlans, recognizes exceptional design in custom, builder model, pre-drawn and multifamily homes of all types and sizes, as well as remodeling, working drawings and projects "on the boards." As a leader in home design recognition, the ARDA awards program has grown over the years to include categories in green building, outdoor living and accessibility.
ARDA is an awards program, not a design competition. Therefore, entries are not grouped in square footage or project value classifications. Judging is conducted by a panel of residential design and construction experts and is based on the quality of the entry and not compared to others in a category. However, one or more ARDA winners may be recognized as the overall best in their specific category.
All residential industry professionals are eligible to enter individual or collaborative projects. Entries previously submitted to ARDA are still eligible provided they haven't yet won recognition in the same category. Entries may be entered in more than one category (e.g. Custom Homes and Green Design) and all completed projects are eligible regardless of their completion date.
---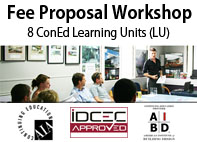 Fee proposal workshop, this Friday.
On June 12th two internationally renowned fee proposal writing experts will be delivering the Fee Proposal Workshop in Los Angeles.
Attendees will learn how to write proposals that increase fee levels, raise conversion rates and avoid scope creep.
85% of attendees say it the most useful continuing education course they've attended
99% of attendees say they would recommend the Workshop to other design professionals
Workshop is limited to 16 attendees per venue.
To read more (venues, dates, pricing, bios, registration): http://blueturtlemc.com/USA-workshops
Please contact Emily with any questions you may have: Emily@blueturtlemc.com or (646) 820 8911.
Blue Turtle Consulting is a registered AIBD Continuing Education Provider (CEP).
---
Hot deals for dads and grads from Lenovo.
Graduate to better performance with Lenovo! All month long Lenovo is passing along amazing discounts on top-of-the-class technologies to members of AIBD. Get Instant Savings of up to 24% off Lenovo's laptops, tablets, desktops and more! Plus, get FREE shipping on all web orders.
Take advantage of these special discounts until June 30, 2015:
24% off the Lenovo Flex 3 15" laptop – the thin and light touchscreen laptop with 360° flexibility
23% off the Lenovo Tablet 2 A7-30 – the Android tablet with a uniquely colorful, slim and light design
20% off the ThinkCentre M93 Tiny desktop (tower) – the space-saving, reliable, and secure desktop
15% off the ThinkPad T450s laptop – the new 14" Ultrabook from the award-winning ThinkPad line
Be sure to check the website often – special offers change frequently. For more information and easy ordering, visit www.lenovo.com/lsp or call 1.800.426.7235, ext. 3569 (M-F: 9am-9pm EST, Sat: 9am-5:30pm EST). Think Next Level. Think Savings. Think Lenovo.
---
Save now on major appliance brands.
$100 Off orders $1000+
$50 Off orders $500 – $999
$25 Off orders $250 – $499
Plus FREE DELIVERY on orders $500+
Use Promo Code SAVEAT250 at checkout
Offer Valid June 1 -30, 2015
Visit www.whirlpoolinsidepass.com now to start saving on your trusted appliance brands from Whirlpool, Maytag, KitchenAid, Amana and Gladiator GarageWorks!
Don't forget, more deals throughout the month!  Keep checking www.whirlpoolinsidepass.
---
More events ahead.
June 10 – AIBD, Charlotte Metro Chapter meeting, Charlotte, NC (contact: kevin@kdhdesign.com)
June 12 – Fee Proposal Workshop, Los Angeles, CA
June 18 & 19 – GreenStar Home Certification webinar (Parts 1&2 of 4)
June 19 – Walking tour of Worth Avenue & surrounding homes, Palm Beach, FL (contact: Steve.Mickley@AIBD.org)
June 20 – Ohio Society meeting – time and location to be determined.
June 25 & 26 – GreenStar Home Certification webinar (Parts 3&4 of 4)
July 8 – AIBD, Charlotte Metro Chapter meeting, Charlotte, NC (contact: kevin@kdhdesign.com)
August 4 – 8 – AIBD Annual Conference: Including the annual membership meeting, two-days of education, architectural tour and ARDA awards gala.