Earn extra income through your own website.

It's the first week of the month which means First Tuesday @ 2:00!
This month we have AIBD Corporate Member Portfolio Home Plans talking about marketing and selling your plans on your own website.
You can do this with everything from conceptual plans to full home plans.
PHP owners Chip Hudson and Kieran Liebl will show you how to set up your own plan sales website with some tips and techniques they've learned from some of their more successful re-sellers.
This program is hosted by the American Institute of Building Design and attendance is complimentary. Feel free to extend this invitation to anyone you know who may be interested.
Certified Professional Building Designers will earn 1.0 Elective CE unit for attending the live presentation.
DATE: Tuesday, December 6, 2016
TIME: 2:00 p.m. to 3:00 p.m. (EDT)
COST: Complimentary
REGISTRATION: https://attendee.gotowebinar.com/register/5974170420300390915?source=Monday+Minute
---
Are you up to date on LEED v4?
LEED is the biggest green building certification program and it just got a huge upgrade. If you haven't updated your own project's LEED certification, you're running late. If your projects don't have LEED certifications, you should consider starting now.
Green building is now an 80 billion dollar industry and you could be a part of that. And of course, it's better for the environment to be building green certified buildings.
With the latest version of LEED, there are more energy efficiency requirements, more requirements on source materials, and a plethora of multifamily home rules. That's just to start.
But these are changes that will be good for everyone moving forward. Of course, they'll take a little getting used to, but these rules are improvements to the current standard.
Plus, the certification process was simplified and streamlined to make that part a lot easier, so there's not a whole lot to worry about.
You can read all about LEED v4 at the US Green Building Council website.
---
Suncoast Chapter Meeting on Thursday, December 8th, 2016.
All are invited to the December 2016 AIBD Suncoast Chapter Meeting.
In this meeting, we will be discussing Digital Signatures and how you can use them as a tool for your business.
Where:
Com Center
9040 Town Center Parkway
LWR, 34202
When:
Thursday, December 8th, 2016
11:45 AM to 1:15 PM
Who
AIBD Suncoast Chapter (Manatee, Sarasota, and Charlotte counties)
For more information about the Suncoast Chapter, check out the Suncoast Chapter page.
---
Simpson Strong-Tie is offering free passes to the IBS!
Join Simpson Strong-Tie at the 2017 NAHB International Builders' Show® (IBS) from January 10-12 in Orlando, Florida.
Registered IBS attendees can experience the exhibits of the Builders' Show and, as part of Design & Construction Week®, the exhibits of the Kitchen & Bath Industry Show®. This includes more than 2,100 exhibitors and 900,000 square feet of indoor and outdoor exhibits.
Click here to get access to the free pass.
And don't forget to visit them at booth W4641!
---
What steps are you taking to find and retain excellent talent?
If you've watched our course, How to Hire the Right Way (with Lisa Schaffer), you already know the process to properly put out a job listing, interview, and hire a new employee.
But how do you keep them? How do you attract the right kind of interest? You don't want someone who is coming to work for you because they want a job. You want someone who is coming to work for you because they want to work for you.
To attract and keep the interest of the best people in your industry, you don't have to be Google, with a full organic kitchen, or Buzzfeed, with a mobile bartender. Though, those things might help.
Check out this Procore webinar where Suzanne Mayeur talks about what makes a company great to work for. There's even a rumor she's going to tell us one very important guiding principle that will make our job so much easier…
The webinar will be on Tuesday, December 6th, 2016 from 11am-12pm PST/2-3pm EST. That's TOMORROW.
---
Get free access to Lightspace California 2017.
Lighting is extremely important to not just the design of your buildings but also to the comfort of those will be using the building.
Luckily, there's a convention just for this. It's called Lightspace California and it's happening in Anaheim early 2017.
This event was created in London but is coming to the USA for the first time alongside The LED Show and Strategies in Light. These events all together provide a wide range of information across the entire lighting supply chain.
From the website:
"A line-up of thought leaders – including leading lighting designers and architects –will explore themes of integration of light and architecture, the role of darkness and shadow and collaboration across the disciplines."
Talks include…
How to add value with light
Creativity in human-centric design and circadian rhythm
Lighting's role in the narration of museums and galleries
And more!
The entire event is organized by Lighting magazine, so you know the people who are putting this together know what they're talking about.
Anaheim Convention Center
February 28th – March 2nd
Free to attend!
Click here to register now.
---
Air Vent Inc. Ask The Expert seminars are coming to a town near you.
Air Vent Inc. are bringing their "Ask The Expert" seminars to cities all over the USA, and there's bound to be one near you.
You'll learn…
How to avoid obvious installation mistakes
How to sell your services the right way
What code violations will follow your whole career
And much more!
These are technical seminars, not sales presentations.
AIBD, AIA, NARI, A.I.I., NAHI, RCI and ACHI members can receive CE credits by attending seminars.
There are 30 seminars around the country, so click here to locate the one that's nearest to you.
These seminars run from January to March 2017.
January's seminars will be:
La Vista, NE – Tuesday, January 10, 2017
Overland Park, KS – Wednesday, January 11, 2017
St. Louis, MO – Thursday, January 12, 2017
Billings, MT – Tuesday, January 17, 2017
Sioux Falls, SD – Wednesday, January 18, 2017
Orange, CA – Tuesday, January 24, 2017
San Jose, CA – Wednesday, January 25, 2017
Portland, OR – Thursday, January 26, 2017
Houston, TX – Tuesday, January 31, 2017
---
The last SoftPlan training of 2016 is coming up soon!
The end of 2016 is quickly approaching and SoftPlan is rounding out their regular online training with one last Intermediate course.
December 6th – 9th: Intermediate SoftPlan
You've gone through the Quick Start beginner course, now it's time to become a truly efficient user with the Intermediate class.
Just like the previous course, this course is online and only takes a couple hours per day for four days.
Aside from learning the ins-and-outs of SoftPlan to really improve your work flow, you'll learn:
Drawing in 3D
Profile mode
Controlling visibility
The Step Wall command
Multi-floor plans
Decks
Room mode
Detailing sections, elevations, etc
And more!
Click here to get signed up for this live online training.
---
Get a 20% discount code and enter to win a free book just for attending this webinar.
Advantages of building Prefab right sized homes
December 7 @ 12:00 PM – 1:00 PM
Have you ever thought about getting into prefab house design?
This webinar takes a look at prefab small houses and works to break down common misconceptions while promoting the advantages.
After this webinar, you'll…
understand the difference between prefab and site built.
know about "healthy housing".
learn how right sized housing can increase energy efficiency.
And much more!
This webinar offers CEUs for AIBD and others.
Click here to register for the webinar.
---
Understanding the 2015 MI Residential Energy Code
December 7 @ 9:00 am – December 9 @ 9:00 am
This is a 3 day event!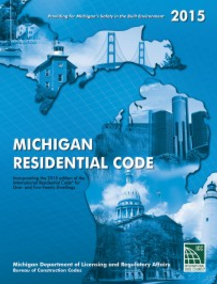 If you're doing work in Michigan, or planning to soon, you'll need to be in this webinar.
It's been almost a year, but the Michigan Residential Energy code has changed and a lot of people who need to know it still don't. Don't be one of those people.
Being behind on this information could potentially hurt your business, but some of this webinar can even improve your business when you know how to use the changes to your benefit.
After this webinar, you'll…
know what's changed in the code.
be able to strategize how to use the changes.
know how to use the new tax deductions.
And much more!
This webinar offers CEUs for AIBD and others.
Click here to register for the webinar.
---
Humor for your Monday!
This week's comic is by Roger Penwill of England.

Mr. Penwill has been a full-time professional cartoonist since 1999, following an architectural career in London. He was one of the first UK cartoonists to convert to producing fully digital artwork and was instrumental in promoting its acceptance in other countries.

For more information on Mr. Penwill or his comics, click here to check out his website.
---
CLICK HERE and to learn more about AIBD events!