Welcome Northeast Ohio chapter!
The AIBD Board of Directors approved last week a new chapter centered on Canton, Ohio. Other familiar cities within the chapter's region include Akron, Cleveland, and Youngstown. The charter members are AIBD Director, Ted Hake (president), Robert Browne (Vice President), Scott Hake (Secretary), John Bacik and Rich Rokisky.
This marks the second chapter in Ohio, along with the Tri-State OKI,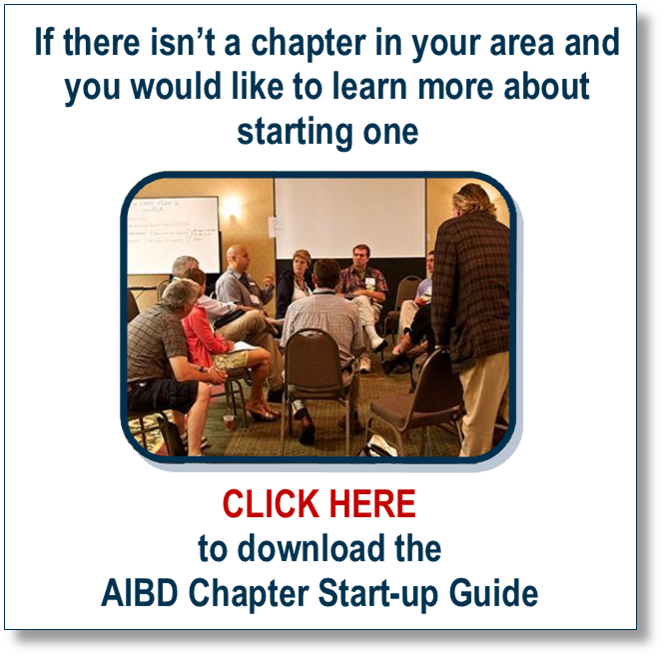 centered around Cincinnati in the Southwest. The new "NEO" chapter is the 25th professional chapter approved by the board of directors this fiscal year (July 2015 to June 2016). In addition to the professional chapters, there is one student chapter at the University of Central Missouri.
If you are not currently a part of an AIBD chapter, check out the chapter webpage: www.AIBD.org/chapters and find one or more near you. Simply contact the chapter president to join. Individuals may be members of as many chapters as they can. For example, an Associate member who's territory covers the entire state of Ohio might want to be listed as a member in both the new NEO and the Tri-State OKI chapters.
If there is not a chapter in your area and you would like to start one, click on the image above and download the "How To" chapter guidebook. The AIBD staff is happy to help you get the ball rolling.
---
Meet our new AIBD members!
Please help us welcome those who joined or rejoined AIBD during the month of April:
David B. Frank
Aubrey Hall
Norman C. Hall
John Hammel
Dennis Hayes
Matthew B. Jones
Johnny Scott Jordan
Jon Levey
Dale McLauchlin
Keith Meberg
William R. Parker
Joseph A. Renda
Roy L. Townsend
FL
TX
NJ
FL
CA
OH
GA
TX
FL
VA
CA
FL
NC
Professional
Professional
Associate
Professional
Professional
Professional
Professional
Associate
Associate
Professional
Professional
Associate
Associate
We are pleased to have AIBD chosen as a resource for professional and personal growth. Membership provides technical information, advocacy, professional networking opportunities, as well as participate in programming sessions offered at various conferences throughout the year. All designed to help advance your career.
Using the "Find a Member" search function at www.AIBD.org, reach out and exchange information with other people in the building designer industry.
---
Connecticut members donate to NCBDC exam development efforts.
On behalf of the National Council of Building Designer Certification (NCBDC) Board of Examiners, the American Institute of Building Design sincerely thanks the members of the former AIBD Connecticut Society for their $4500 donation to the NCBDC. The funds were forwarded with a letter of support by Thomas Schmelter, AIBD, CPBD. Tom has also served as a member of the council for nearly two decades.
Last year, the NCBDC Board of Examiners adopted the ANSI/ISO 17024 Standards for personal certification programs. Consultants were hired to review the current policies and procedures to identify deficiencies compared to the standards. The first step in correcting the deficiencies was to conduct a job analysis. With the help of 25+ volunteers, many of whom paid their own travel expenses, the the task force completed their work last November. Since then, the board of examiners has used the information gathered to review and establish the new Certified Professional Building Designer (CPBD) exam specifications. The next steps are to review all of the current exam parts and questions based on the new specifications, gather Subject Matter Experts to assist in writing new questions and launch and updated exam; all the while being guided, supervised and reviewed by PSI, international testing and assessment consultants familiar with the ANSI standards and helping organizations like AIBD comply.
---
RIPPLE* lunch and tour in Greenville, NC – May 10th.
The Down East chapter invites you to lunch at  Winslow's Deli, Tavern and Market in downtown Greenville at 12:00 PM on Tuesday May 10th. After lunch they will tour the historic Humber House located across the street. Humber House serves as the headquarters for the Eastern Office, Historic Preservation Office of the NC Department of Natural and Cultural Resources. The staff will give an overview of the services their office provides, an introduction to historic preservation tax credits, and a tour of the structure.
Please invite anyone interested in the design and building of quality homes to attend.
Free public parking is available across from the restaurant. When you arrive ask the hostess to direct you to the AIBD meeting upstairs.
If you have any questions please feel free to contact Len Van Staalduinen, AIBD by calling (252)-531-2208
When: Tuesday, May 10, 2016
Where: Winslow's Deli, Tavern and Market, 120 W 5th St, Greenville, NC 27858
Time: 12:00 p.m. to 2:00 p.m. EDT
Cost: Lunch is on your own
*Residential Industry Professional People Lunch and Education

---
Tour of Baltimore Basilica and Lunch, Wednesday – May 11.
Please join AIBD board member Alan Abrams next Wednesday for a tour one of our local architectural treasures: the splendid Greek Revival style Baltimore Basilica, America's first cathedral, designed by Benjamin Latrobe. Latrobe also designed the initial buildings of the US Capitol. The 45-minute tour includes all areas of the church, including the upper church, undercroft, Our Lady Seat of Wisdom Chapel, Crypt, Museum, and the Pope John Paul II Prayer Garden (upon request).
After the tour, meet for lunch at Baltimore's finest pub: Mick O'Shea's, just around the corner. During lunch, we can discuss the organization of an American Institute of Building Design chapter. Alan also would like to discuss the issue of licensure in Maryland, which is more restrictive than most other jurisdictions in the US.
Date: Wednesday, May 11, 2016
Tour: 11:00 a.m. Meet in front of the gift shop, Baltimore Basilica, 409 Cathedral Street, Baltimore, MD 21201, Phone: 410-727-3564.
Lunch: 12:00 p.m. at Mick O'Shea's, 328 N Charles St, Baltimore, MD 21201, (410) 539-7504 (just one block south of the basilica).
Cost: $2 donation for the tour and lunch is on your own.
Please RSVP: Alan Abrams, alan@abramsdesignbuild.com or (202) 726-5894.
---
Room for 11 more – Charlotte 6-hour RIPPLE* – May 11.
Join the AIBD, Charlotte Metro Chapter and Associate Member Kelly Phillips of Cox Industries for a full-day continuing education event on May 11, 2016. Kelly herself will be leading a session titled What's New in Pressure Treated Lumber. There are just 11 more seats available.
Along with Kelly, there will be continuing education presentations by Cedar Valley Shingles, MiTek Building Products, Plast Pro Doors, Velux Skylights and Weather Shield Windows.
NCBDC certified designers will receive 3.0 Primary Credits and 3.0 Elective Credits!
*RIPPLE = Residential Industry Professional People Lunch and Education
Did we mention that LUNCH IS PROVIDED!!
CLICK HERE to register now!
Date: Wednesday, May 11, 2016
Time: 9:30 a.m. to 4:00 p.m.
Cost: COMPLIMENTARY – including a free lunch too!
---
Lunch and learn in Greensboro, NC – May 12th.
Join the AIBD, Triad Chapter (Greensboro, NC region) and James Terry with Velux skylights for lunch. James is also presenting a continuing education program to communicate how skylights can contribute and provide the benefits of natural ventilation, daylight and energy efficiency to ensure good health and well being in residential applications as well as evaluating the importance of indoor climate and the aspects of creating better living conditions.
Where: Pella Window's Conference Room 220 Seneca Road, Greensboro, NC, 27406
When: Thursday, May 12, 2016
Time: 11:30 am to 1:00 pm EDT
Cost: Complimentary – Sponsored by VELUX USA
---
Free breakfast, tour and continuing education in Clearwater, FL – May 14th.
Join the Tampa Bay chapter for breakfast and a presentation by Mr. David Wilson, Technical Sales and Marketing Coordinator for Greenstar Insulated Panels, Inc. The Greenstar Panels are a revolutionary and patented Hyper-insulation System which addresses and abates all three aspects of heat transmission-convection, conduction and radiant, all in a single product. Greenstar Panels are a proven product, already installed in over 300 residences and commercial structures in the Lakeland-Tampa Bay area, and they have been proudly featured on the local Fox News Channel as well.
A short tour of the historic Ft. Harrison Hotel will follow the presentation! PLEASE RSVP BY MAY 9th to: Tim Roney at tim@roneydesign.com.
CLICK HERE for more information.
Where: FT. HARRISON HOTEL, 210 S Fort Harrison Ave., Clearwater, FL 33756
When: Saturday, May 14, 2016
Time: 9:00 am to 11:00 am
Cost: Complimentary! Sponsored by Greenstar Panels, Inc.
---
10 Most common code violations – Part 2.
SOURCE: Norbord Ι North America (CLICK HERE for Part 1)
The Common Code Violations survey conducted by the ICC in 2013 found a whopping 45% of field inspections uncovered code violations. Knowing what to look out for will help you to pass your building inspection with flying colors. Failing an inspection can be costly and time consuming and can eat into already tight profit margins. Here are some of the most common reasons building fall short of code expectations.
DECK LEDGERS AND BRACES
Deck connections are a very common violation. One of the biggest issues are improper connections between the ledger and the house and poor flashing installation. Deck shear-bracing requirements are also often neglected.
STAIRWAYS
When horizontal space is limited, some contractors will try to squeeze in stairs and this may result in treads that are too narrow or stairs that are pitched too steeply. Codes require a minimum of 6-feet of headroom with 8 inches from the tread to the ceiling with the steepest stair at 7 3/4-inch risers and 10-inch treads.
A common mistake is not to adjust for the thickness of the flooring at the bottom of the staircase, leaving a shorter bottom step that violates code. These riser and tread requirements also apply to the outside of the home, so take care with stairs leading up to the porch or deck. Stairs that don't meet the code can cause accidents and, when someone falls, they can sue contractors even after they have passed inspection.
HANDRAILS AND GUARDRAILS
Another potential source of litigation, hand and guardrails must meet code which requires a 34- 38 inches from the tread with a secure connection to the stairs. Blocking can help to ensure a secure connection.
To avoid hooking on clothing and purses, hand and guardrails can't just end, they must end at the post or wall.
AIR-BARRIER GAPS
Creating a home envelope is essential if your build is going to meet with more stringent energy codes. Creating a continuous thermal envelope will mean getting into spaces that are often hidden like behind fireplaces or HVAC chases and attic knee walls.
Leaving gaps in your home's envelope is a very difficult and costly callback. You must ensure that air-sealing has been done properly during the framing.
EXPOSED KRAFT-FACED INSULATION
Kraft-faced insulation cannot be left exposed as these batts will burn in the event of a fire. The paper is coated with bitumen which is highly flammable. Insulation batts must be covered with drywall or whatever sheathing options meet code. This applies wherever you have used insulation batts like knee walls, framing cavities, crawl spaces and attics.
The best way to negate expensive callbacks and code violations is to know your code. Send your team for training and always read the manufacturer's instructions. Have someone do your own inspection and make any corrections before you call for the inspector. Not all building materials are the same, so read the instructions before you begin. A little planning and time before you begin may save you money in the long run.
Get all the latest news and industry tips straight from Norbord delivered to your email. We won't send you spam and only send at most two updates per month. Your privacy is important to us; your email will remain confidential and will not be shared with any other parties.
---
How to become a FORTIFIED-Wise Professional.
The AIBD, Cape Fear Chapter and Town of Carolina Beach Building Inspection Department are presenting a FORTIFIED-Wise training program in Carolina Beach, NC. The FORTIFIED Wise™ Associate and Professional demonstrates a solid understanding of FORTIFIED Home™ building principles, construction practices and verification requirements. It's ideal for contractors, product manufacturers, building officials, insurance professionals, students, real
estate professionals, or anyone who wants to increase their knowledge of FORTIFIED Home™ and IBHS.
Professional candidates must have a current license or certification in a related field (CPBDs qualify). See registration website for more details.
When: Wednesday, May 25, 2016
Where: Carolina Beach Town Hall, 1121 N. Lake Park Blvd, Carolina Beach, NC
Time: 8:30 am to 5:00 pm EDT
Cost: $275 (Associates)/$375 Professionals (BEFORE APRIL 28)
CLICK HERE for more details and to register.
---
Did you know? AIBD has an online calendar.
Keep tabs on all the upcoming events by visiting the www.AIBD.org home page and clicking on "Community Calendar" in the left-hand margin. For example:

AIBD members, work and life never stand still….. Neither should your PC! Now is the time to upgrade and save instantly up to 38% off Select Lenovo PC Desktops, Laptops, Tablets, and Accessories that keep you in motion.
Visit: www.lenovo.com/lsp
Call: 1-800-426-7235, ext. 3569 (M-F: 9am-9pm EST, Sat: 9am-6pm EST)
---
Attend AIA convention in Philadelphia compliments of VELUX, May 19-21.
Stop by our booth, #1747, and speak with a daylighting expert to learn about:
Energy efficient daylighting strategies that bring in more natural light WHILE reducing your overall square footage of glazing
How fresh air skylights can be the most efficient way to provide natural ventilation to a home
The latest innovations in solar powered fresh air skylights, solar powered blinds, Clean, Quiet & Safe glass, and VELUX's Modular Skylight System.
And be introduced to the VELUX Dynamic Dome – A Revolution in Commercial Skylights!
Use promo code INVITE1 for your free expo pass. Click here for a FREE invitation.
---
SoftList class will be held May 17 – 20.
SoftPlan's SoftList class will teach you how to get SoftList to count materials exactly the way you want. Classes meet from 9:00 a.m. – 10:30 a.m. CST.
You'll learn how to generate a Material Takeoff Report, analyze existing formulas, create new formulas, and much more, all from the convenience of your own office. At the end of the course you'll have the knowledge you need to win more jobs with better cost control. See a full itinerary and visit their website for more class offerings.
Each class is $195.00 per person. Classes fill up fast, register today.
phone 800-248-0164
email sales@softplan.com
---