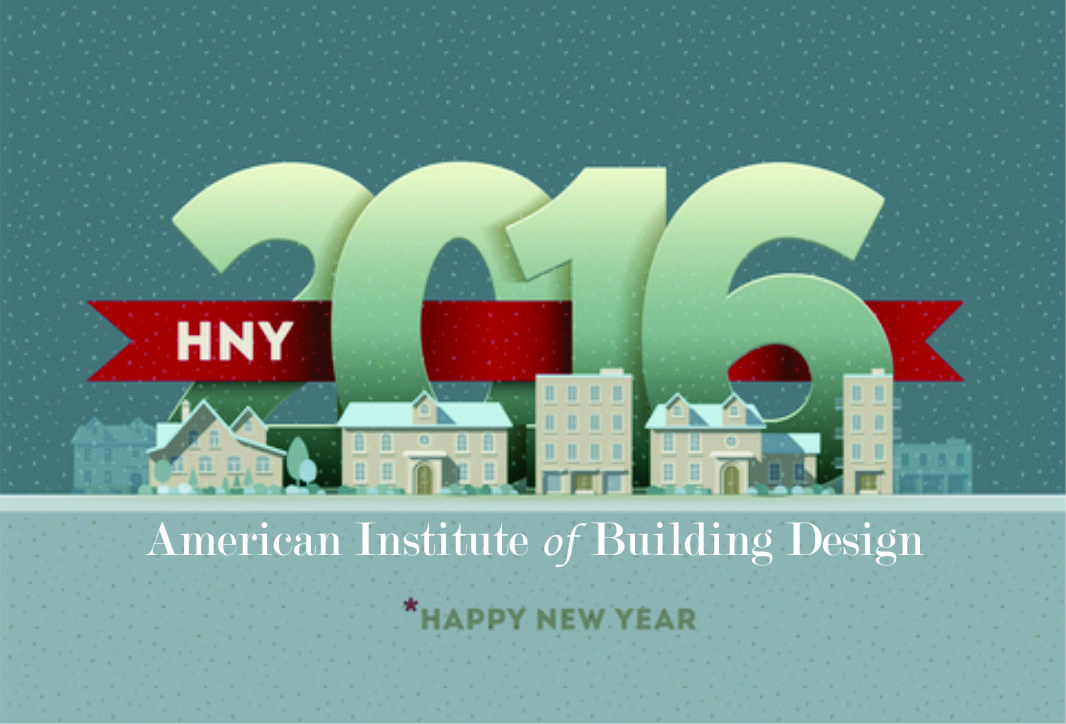 Happy New Year!
May 2016 bring you nothing but responsive builders and subcontractors, employees who are productive, and clients who pay their bills.
Our staff will be unavailable during the upcoming business days:
New Year's Eve – Thursday, December 31st
New Year's Day – Friday, January 1st
Help a Reporter
Drew Vass is a freelance reporter and he's working on an article for Builder magazine. He's interested in getting a grip on how prevalent or possibly growing  certain building methods are these days. He contacted the AIBD and we created a short survey to help Drew get a feel for which topics are worth writing about. Below is list he provided us. Please click the link below to tell Drew the frequency in which you are seeing these methods used in residential construction.
Methods/Topics:
Panelized construction (walls, floors, roofs – whether manufactured and distributed or pre-constructed by builders/contractors)
Elevated concrete ground slabs (jacked)
Post framing
Spray-on air and weather barriers
Steel framing (walls, floors, roofs, decks – you name it)
CLICK HERE to access the very short survey and to volunteer for a possible interview.
Why I am proud to represent the Institute.
BY: Steve Mickley, AIBD Executive Director
Anytime is time to give back, but the holidays are known for generosity! What I'm about to share happens quite often, but possibly it's the season that causes me to write about it today.
Coming back from a restful holiday weekend, I returned to the office this morning to find two examples of how relationships are built within our closely knit building design community. First, I'm confused by an envelope filled with a multitude of modest checks – $25, $50, $55. Then I find a Change of Status Form and a cover letter that clarifies, "Enclosed are multiple checks to cover the membership renewal for [a member]." It continues to point out the request to change the member's status from Professional to Retired Professional. It continues to say, "…his membership is valuable to us, so [our chapter] members have all chipped in to make this happen."
Retired members represent irrefutable evidence that building design is a sustainable and rewarding career choice. A person seeking retired status must meet a simple formula relating to years of membership and age. Then, they must pay a one-time fee (equal to membership). From that point on, they are given emeritus status with no further membership dues. If they are certified, their annual certification renewal is substantially reduced and the requirement for continuing education is waived. When I meet with building officials, legislators, and educators, I'm pleased to report the growing number of retired members within the AIBD ranks.
The second envelope I open is a beautifully hand written note to myself – neatly printed in all caps; a familiar sight in our industry. "I count you among a small group of close friends…you have been present at some of the most important events in my career." The words are moving and I think back over all the College of Fellows inductees, all of the Designer of the Year recipients, and all of the incoming presidents I've had the privilege to work with over the years.
Past AIBD president, Don Gore, FAIBD ended his final address to AIBD with these timeless words, "Let us not forget why we are here. It is for the advancement of our profession and those who strive to become our contemporaries." Those words are moving as well as I think ahead in anticipation for those who will be honored for contributions today and in the future.
There are simply too many examples of how this organization has helped me grow as a designer, as a professional, and now as a representative. It's comforting to know that everyone still has access to the same opportunities; please help us continue that way. I know that your time is limited and getting involved will involve sacrifice. Every contribution is significant. Building designers help themselves by helping each other.
2015 was a year of mergers and inquisitions.
Mergers and acquisitions were widespread in 2015, as two dozen window and door companies made investments or sold assets. "Participants are seeking consolidation opportunities to expand manufacturing footprints and capabilities, broaden product portfolios, and enhance margins," explains Andrew K. Petryk, Managing Director and Principal of investment bank Brown Gibbons Lang & Co. LLC. "Today's perfect storm of pent-up demand, cheap financing and surplus capital is driving up valuations. All of this creates a particularly advantageous window for sellers contemplating exits."
The Marvin Companies took 100 percent ownership of Denver-based TruStile Doors LLC in May. This came after Pella Corporation's announcement that it would acquire Grabill Inc., a designer and manufacturer of custom luxury windows and doors for elite properties. More recently, PTHV Acquisition LLC, an affiliate of Soft-Lite LLC, announced that it intends to acquire the assets and product lines of THV Holdings LLC, manufacturer of Compozit Windows & Doors.
At the end of 2015, PGT Inc. signed a definitive agreement to acquire WinDoor Inc., a transaction valued at approximately $102 million. Orlando-based WinDoor provides high-performance, impact-resistant windows and doors for custom residential homes, five-star resorts, luxury high-rise condominiums and hotels. And, National Millwork Inc. acquired Elite Door and Trim in Denton, Texas, a move it anticipates will enable the company to obtain contracts in approximately 60 percent of the United States.
AIBD members get your Design & Construction Week (DCW) expo pass now for only $125 until January 16 and attend the industry's largest gathering of residential design and construction industry professionals, January 19-22 in Las Vegas. #DCW2016 features the co-location of @BuildersShow and @KitchenBathIndustryShow and your registration includes access to the exhibit floors of both shows as well as the floors of two partner events @vision.iwce and @TISEofficial – a total of 2,500+ exhibits! Register now at www.designandconstructionweek.com/AIBD
Shop the AIBD Lenovo Member Savings Program for holiday savings.
'Tis the Season for shopping with Lenovo! Give the gift you know they will open all year by shopping Lenovo's entire portfolio of cutting edge Tablets, Laptop Convertibles, All-In-One Desktops, Accessories and more. Through the AIBD Member Savings Program, you get ongoing discounts of up to 30%, FREE shipping on all web orders, access to energy-efficient green technologies, award-winning service and limited-time special offers!
Take advantage of these great savings through the end of December:
63% off select Lenovo Accessories
45% off select Lenovo Desktops
42% off select Lenovo Laptops
38% off select Lenovo Tablets
15% off select ThinkPad and ThinkCentre PCs
Visit www.lenovo.com/lsp or call 1-800-426-7235, ext. 3569 (M-F: 9am-9pm EST, Sat: 9am-6pm EST). Visit often for weekly specials like Stocking Stuffer Savings, Doorbusters and more!
---