Which home is the 2015 Global Choice? You tell us!
Help choose the American Residential Design Award's Global Choice Award winner. Beginning now and going through August 6, 2015, you can click the link below to view the 2015 Global Choice entries. Set aside a few moments and vote for your favorite. Then make plans to be on hand at the AIBD Awards Gala on August 7th in Providence, Rhode Island. That's when all the ARDA winners will be announced!
CLICK HERE to view the 2015 Global Choice Award entries and place your vote!
---

Registration closes Thursday at midnight!
Visit www.AIBDConvention.com to register.
"This year's AIBD Annual Conference is providing the QUALITY education our members have been asking for!" says AIBD conference chairperson, Karen Kassik-Michelsohn. "The Institute of Classical Architecture is providing a full day of education to expand our knowledge and sharpen our design skills and our architectural tour will showcase some of the most beautiful historic homes in America! Come and join us in New England – you will be glad you did!"
The 2015 AIBD Architectural Tour includes three remarkable and unique perspectives on the lives of the people who lived and worked in the grand mansions of Newport. At all of the Newport Mansions, you will find a world of exceptional elegance and inspiration in architecture, art, interior design and landscapes. Join us for a journey back in time at one of America's premier collections of historic house museums and 250 years of American history.
Lastly, the AIBD Annual Conference draws to an elegant close Friday night with our formal-optional American Residential Design Awards gala dinner. Gather for pre-reception cocktails to mingle with other convention attendees and the AIBD national leadership, then partake of a splendid dinner, all the while enjoying the historic beauty of the Providence Biltmore hotel.
Visit www.AIBDConvention.com to register.
CLICK HERE to reserve your hotel room at the Omni Providence hotel. AIBD's special rate is $165/night (plus taxes and fees). A limited number of rooms have been set aside. The AIBD rate ends when the block is sold out.
Visit www.AIBDconvention.com to view the conference schedule and to get information about the event as it becomes available.
---
Central Oklahoma Chapter lunch meeting.
Date: July 31, 2015
Time: 1:00 to 2:30 p.m. (CT)
Location: Johnnie's Charcoal Broiler, 33 E. 33rd Street, Edmond, Oklahoma
RSVP: Marc Wilson, marc@marcfwilson.com
CLICK HERE for more info
---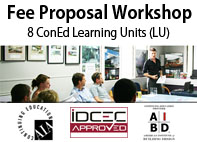 Fee proposal writing workshops in San Fran & Seattle – Save 10%.
Next Tuesday & Thursday, two internationally renowned fee proposal writing experts will be delivering the Fee Proposal Workshops – San Francisco, August 4th & Seattle, August 6th. Attendees will learn how to write proposals that; increase fee levels, raise conversion rates and avoid scope creep. 85% of attendees say it is the most useful ConEd course they've attended, 99% of attendees say they would recommend the workshop to all design professionals. Workshop is limited to 16 attendees per venue – AIBD members use promotional code "AIBD" and save 10%.
(Blue Turtle is an approved AIBD CEP and 8.0 Primary CE units are awarded for attending this program)
To read more (venues, dates, pricing, bios, registration): http://blueturtlemc.com/USA-workshops. Please contact Emily with any questions you may have: Emily@blueturtlemc.com or (646) 820 8911
---
3D Rendering classes start tomorrow.
Dates: July 28 & 29
Time: 9:00 to 12:00 CDT
Location: Online
SoftPlan's 3D class is one of our most popular. You'll learn how to create beautiful, professional looking 3D renderings – a skill you'll be able to use to entice clients and set your business apart from the competition.
This class will be conducted using SoftPlan 2016.
You'll learn how to assign textures, add realistic 3D symbols, create a site plan, create an attractive kitchen rendering, and much more, all from the convenience of your own office. You'll also be able to ask the instructor questions and interact with the class.
Each class is $195.00 per person. See a full itinerary below and visit our website for more class offerings.
Classes fill up fast, register today.
phone 800-248-0164
email sales@softplan.com
---
Savings from Lenovo end Friday.

July means hot summer savings at Lenovo! Get these AIBD member deals before they cool off! Take advantage of Instant Savings of up to 30% off Lenovo's laptops, tablets, desktops and more. Plus, get FREE shipping on all web orders.
Take advantage of these special offers until July 31, 2015:
30% off the Lenovo Yoga 3 14" laptop – the ultraportable convertible laptop with 360° flexibility
23% off the Lenovo Tablet 2 A7-30 – the Android tablet with a colorful, slim and light design
20% off the ThinkCentre M93 Tiny desktop (tower) – the space-saving, reliable, and secure desktop
15% off the ThinkPad X1 Carbon laptop – Lenovo's premium new 14″ Ultrabook™ with durable, yet light, carbon-fiber construction and extended battery life
To check out the latest and greatest in Lenovo technology, visit www.lenovo.com/lsp or call 1-800-426-7235, ext. 3569 (M-F: 9am-9pm EST, Sat: 9am-6pm EST). Be sure to check the website often – special offers change frequently. Think Summer. Think Savings. Think Lenovo.
---
More events ahead..