Attention! New speaker added to the conference agenda.
Craig Foley has agreed to fill a vacancy in the AIBD Annual Conference education program. Originally filled by Harvey Bernstein of Dodge Data & Analytics/McGraw Hill Construction, Mr. Foley will be delivering the 2:00 p.m. presentation on Residential Green Trends: Opportunities in a Growing Market on August 5th, in his place. This is a great turn of events for AIBD Annual Conference attendees!
Check out Craig's TEDx talk:
Craig is the chief of energy solutions for RE/MAX Leading Edge, and a co-founder of inCharge Energy. He is the architect of RE/MAX Leading Edge's successful green brand and strategy. Craig is the author of the first reports on high-performance home market in Massachusetts in 2012 and 2013. He was one of five people in the United States to receive the EverGreen Award by the NAR Green REsource Council in 2013 for his advocacy of the green real estate industry in 2013. Craig serves as the Advocacy Coordinator for the MA Chapter of the U.S. Green Building Council, for his work in 2013 the MA Chapter awarded him its "Advocacy Volunteer of the Year". He led a group of stakeholders associated with the USGBC to recommend green data field updates for the regions predominant multiple listing service, MLS Property Information Network, Inc. The new data fields were implemented in January, 2015. Craig serves as an Advisory Board member of the NAR Green REsource Council. He serves on NAR's Land Use, Privacy Rights, and Environment Committee, as well as the Pro Standards Committee for the Massachusetts Association of REALTORS®, in 2015.
Early registration ends June 30th!
Visit www.AIBDConvention.com to register.
Featuring Classicism in American Residential Design, this year's AIBD Annual Conference is scheduled full of must attend sessions and tours. The Institute of Classical Architecture and Art is providing a full-day session beginning with Classical Mouldings and the Orders. Author, architect and AIA Fellow, Jeremiah Eck is focusing on How We Market Ourselves as Designers. The National Association of Home Builders is partnering with the AIBD High Performance Homes Team to bring us Green Residential Trends: Opportunities in a Growing Market and Make it Matter! How to sell when "Green" doesn't mean "Go". 
The 2015 AIBD Architectural Tour includes three remarkable and unique perspectives on the lives of the people who lived and worked in the grand mansions of Newport. At all of the Newport Mansions, you will find a world of exceptional elegance and inspiration in architecture, art, interior design and landscapes.  Join us for a journey back in time at one of America's premier collections of historic house museums and 250 years of American history.
Lastly, the AIBD Annual Conference draws to an elegant close Friday night with our formal-optional American Residential Design Awards gala dinner. Gather for pre-reception cocktails to mingle with other convention attendees and the AIBD national leadership, then partake of a splendid dinner, all the while enjoying the historic beauty of the Providence Biltmore hotel.
Visit www.AIBDConvention.com to register.
CLICK HERE to reserve your hotel room at the Omni Providence hotel. AIBD's special rate is $165/night (plus taxes and fees). A limited number of rooms have been set aside. The AIBD rate ends when the block is sold out or July 3, 2015 arrives, whichever comes first.
Visit www.AIBDconvention.com to view the conference schedule and to get information about the event as it becomes available.
---
Submit College of Fellows nominations by July 6.

The AIBD College of Fellows has announced, they are seeking nominations and will be inducting a new class of Fellows at the American Residential Design Awards gala in Providence, RI, the evening of August 7, 2015.
The honor of membership in the College of Fellows is bestowed upon a Professional member of the American Institute of Building Design who is certified by the National Council of Building Designer Certification and has notably contributed to the advancement of the building design profession by excellence in design, or by excellence in design in combination with excellence in education, literature or public service.
If you wish to nominate yourself or someone you know, download the nominations packet, including more information and the nomination forms, at it www.AIBDmember.org/collegeform.pdf.
---
Check out the renewed ARDA awards program!

CLICK HERE to download the ARDA registration form.
Deadline to register AND enter your projects – July 10, 2015
The American Residential Design Awards (ARDA) is the American Institute of Building Design's premier award program exhibiting design excellence in the residential building industry. It spotlights the most creative and innovative residential designers, builders, remodelers, architects, developers, land planners and interior designers in the nation. Every year, the awards program, sponsored by Hanley Wood's ePlans, recognizes exceptional design in custom, builder model, pre-drawn and multifamily homes of all types and sizes, as well as remodeling, working drawings and projects "on the boards." As a leader in home design recognition, the ARDA awards program has grown over the years to include categories in green building, outdoor living and accessibility.
ARDA is an awards program, not a design competition. Therefore, entries are not grouped in square footage or project value classifications. Judging is conducted by a panel of residential design and construction experts and is based on the quality of the entry and not compared to others in a category. However, one or more ARDA winners may be recognized as the overall best in their specific category.
All residential industry professionals are eligible to enter individual or collaborative projects. Entries previously submitted to ARDA are still eligible provided they haven't yet won recognition in the same category. Entries may be entered in more than one category (e.g. Custom Homes and Green Design) and all completed projects are eligible regardless of their completion date.
---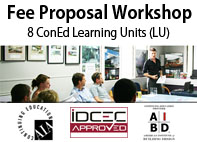 Fee proposal writing workshop in Seattle – Save 10%.
On Thursday, August 6th, two internationally renowned fee proposal writing experts will be delivering the Fee Proposal Workshop in Seattle. Attendees will learn how to write proposals that; increase fee levels, raise conversion rates and avoid scope creep. 85% of attendees say it is the most useful ConEd course they've attended, 99% of attendees say they would recommend the workshop to all design professionals. Workshop is limited to 16 attendees per venue – AIBD members use promotional code "AIBD" and save 10%.
(Blue Turtle is an approved AIBD CEP and 8.0 Primary CE units are awarded for attending this program)
To read more (venues, dates, pricing, bios, registration): http://blueturtlemc.com/USA-workshops. Please contact Emily with any questions you may have: Emily@blueturtlemc.com or (646) 820 8911
---
Florida delays blower door testing one year.

The one year delay has been confirmed for three specific provisions in the 5th edition of the Florida Building Code: mandatory blower door testing, mechanical ventilation, and fire service access elevators. "This past legislative special session has left the building industry in a state of confusion with decisions affecting the building code delay ranging from 90 days to one year. However, all is made clear" reports Jerry Linder, President of the Florida Home Builders Association.
The historical sweeping veto by Governor Scott this past week wiped out funding for a study on the economic and health impacts of complying with the three building code mandates. However, because the delay language was tied to the entire appropriation section, which was not vetoed in its entirety, the code delay language remains intact.
All other provisions in the 5th edition of the Florida Building take effect tomorrow.
---
AIBD member credited for area's largest home theater screen.

What's even more impresssive is that Easy Living with Technology, an integrator in Clearwater, Fla., completed the project in about three months. Check out before, during and after photos of Mike Stram and his team by CLICKING HERE.
---
More events ahead.