Honoring our heroes!
Today we pay respects to the many loved ones we have lost who died dedicating their lives to protect our freedoms.
Wishing everyone a safe and happy Memorial Day!
---

Hotel reservations are open!
CLICK HERE to reserve your hotel room at the Omni Provicence hotel. AIBD's special rate is $165/night (plus taxes and fees). A limited number of rooms have been set aside. The AIBD rate ends when the block is sold out or July 3, 2015 arrives, whichever comes first.
Visit www.AIBDconvention.com to view the conference schedule and to get information about the event as it becomes available.
---
RIPPLE this Wednesday, Beaufort, SC.

Date: Wednesday, May 27, 2015
Time: 11:30 a.m. to 12:45 p.m. ET
Location: Panini's Cafe, 926 Bay Street, Downtown Beaufort, SC
AIBD Pro member, Paul Cole, invites all residential industry professionals to Join him for a relaxing lunch aimed at promoting uncompromising professional values, presenting important and challenging ideas/issues, and encouraging a culture of friendship and responsibility among industry professionals. RIPPLE stands for: Residential Industry Professional People Learning and Enlightenment. His goal is to make the event a monthly tradition that evolves into an AIBD chapter in the Low Country region.
CLICK HERE to download an event brochure with more information and registration instructions.
---
Palm Beach walking tour June 19th.
Date: Friday, June 19th
Time: 4:30 – 5:30 p.m.
Location: Worth Avenue, Palm Beach, FL
Join AIBD's executive director, Steve Mickley, for a guided architectural tour of some of the residential jewels around one of Florida's most famous streets, as well as a stroll down Addison Mizner's Via Mizner and Via Parigi. The tour will conclude with cocktails and snacks (possibly dinner) on the patio at Pizza Al Fresco. The guided tour will include Mizner designed, Villa Maria Marrone and "Major Alley", six small Bermuda-style row houses by Howard Brougham Major. Followed by Via Mizner and Via Parigi. The tour will be led by full time Palm Beach resident and professional tour guide, Leslie Diver.
The tour is $10 for AIBD members and $15 for non-members. Space is limited. The cocktails, snacks and possibly dinner are at your own expense.
For more information or to reserve your spot, contact Steve by writing to Steve.MIckley@AIBD.org or call him at 800.366.2423.
---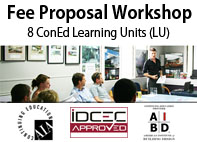 Fee proposal workshop.
On June 12th two internationally renowned fee proposal writing experts will be delivering the Fee Proposal Workshop in Los Angeles.
Attendees will learn how to write proposals that increase fee levels, raise conversion rates and avoid scope creep.
85% of attendees say it the most useful continuing education course they've attended
99% of attendees say they would recommend the Workshop to other design professionals
Workshop is limited to 16 attendees per venue.
To read more (venues, dates, pricing, bios, registration): http://blueturtlemc.com/USA-workshops
Please contact Emily with any questions you may have: Emily@blueturtlemc.com or (646) 820 8911.
Blue Turtle Consulting is a registered AIBD Continuing Education Provider (CEP).
---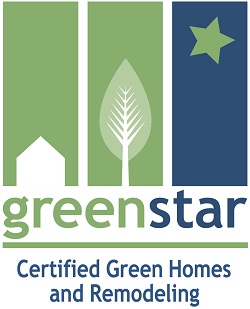 4-Part GreenStar Certification live webinar series – 50% AIBD discount.
The Green Home Institute (AIBD CEP) is thrilled to see the GreenStar program growing and expanding with interest all across the country. As of this year they have 40 more qualified professionals like you representing nearly 140 people committing to better remodels, additions and new homes.  They know many of you interested in GreenStar are very busy and so they are excited to launch their summer, you focused series with a 4 part webinar qualification training. Also, don't forget to catch us Sunday speaking at the Midwest Renewable Energy Fair. There will be tons of professional CE courses on Sunday and fun to be had throughout the weekend.
The upcoming webinar course will…
Help you understand the basics and value of green labeled and certified homes.
Navigate the GreenStar online checklist and manual show you how to use it to generate different subcontractor
·        Bids
·        Specifications in plans
·        Scopes of work
·        Contractors & Accountability forms
Review updated Green Building Science in residential new homes, additions & remodels
Show how to Become a GreenHome Designated Professional and sell green in your next project
Navigate the documentation, certification process with your GreenStar Rater
Continuing Education Units – 7 hours
GBCI, AIA (HSW), NARI Green, NGBS, AIBD, AISD (Pending), BPI (Pending) & State License CEs
Agenda, Times & Days – June 18th, 19th, 25th & 26th – 4 days / 2 weeks* 12pm – 2pm est*
Full Agenda Handout can be seen here. 

Discounts are available to AIBD members using the discount code: aibdgs. 
Limited seats – sign up now!
---
More events ahead.
May 27 – Beaufort, SC RIPPLE – Residential Industry Professional People Learning & Enlightening
May 29 – AIBD, Central Colorado Chapter meeting, Denver, CO
June 4 – AIBD, Cape Fear Chapter meeting, Wilmington, NC
June 10 – AIBD, Charlotte Metro Chapter meeting, Charlotte, NC (contact: kevin@kdhdesign.com)
June 12 – Fee Proposal Workshop, Los Angeles, CA
June 18 & 19 – GreenStar Home Certification webinar (Parts 1&2 of 4)
June 19 – Walking tour of Worth Avenue & surrounding homes, Palm Beach, FL (contact: Steve.Mickley@AIBD.org)
June 25 & 26 – GreenStar Home Certification webinar (Parts 3&4 of 4)
July 8 – AIBD, Charlotte Metro Chapter meeting, Charlotte, NC (contact: kevin@kdhdesign.com)
August 4 – 8 – AIBD Annual Conference: Including the annual membership meeting, two-days of education, architectural tour and ARDA awards gala.