---
Announcements
---
High Performance Home Design – A Primer
What is a high performance home and how do I get one?
These questions are often asked, but you're in luck! We've got Michael Battaglia of Dayton, Ohio, to answer them.
High Performance Home building is the result of years of examining, learning, and evolving building science. The years of building science have produced some fundamental changes to the way we are building today.
Learn all about them in this guide on the AIBD blog.
Michael's passion for residential design has been enhanced with interest in the development of the science of building. Michael believes Historic Design Styles and the Science of Building can coexist without having to compromise.
Click here to read it now.
---
---
Events
---
AIBD Central Colorado Chapter Meeting on Friday January 26th
The AIBD Central Colorado Chapter invites you to their next meeting, a social networking opportunity on January 26th, 11:30am at the Warehouse Restaurant, in the wine room.
This is a Lunch N Learn event hosted by Christopher Clark with ArchiCAD. In addition to an AIBD update meeting, Christopher will share with you the ArchiCAD version 21 latest tricks, tips and benefits.
Be sure to RSVP so that they can make preparations for the event. All industry partners are welcome. Please RSVP by contacting the AIBD Central Colorado Chapter Chair, Keith E. Zoni at keith@zonidesigngroup.com or 719.239.9692.
When: January 26th, 11:30 am to 1:00 pm MT
Where: The Warehouse, 25 W Cimarron St., Colorado Springs, CO 80903
Who: RSVP to: keith@zonidesigngroup.com
For more information, check out the AIBD calendar.
---
AIBD Tri-State OKI Chapter Meeting on February 24th
Join the AIBD – Tri-State Oki Chapter on February 24th, in Millersburg, OH – Carter Lumber Plant.
Join them on a tour of the Carter Lumber Plant.
There will also be a CEU presentation on structural loading and brace walls.
Just send in your RSVP to let them know you will be joining them. ~ Questions? Contact Jim Wright at: (614) 430-0027 or jawright@rdshomedesign.com.
For more information, check out the AIBD calendar.
---
AIBD Salt Lake Metro Chapter meeting on March 5th.
Milgard windows has offered to host a lunch and learn for the AIBD Salt Lake Metro Chapter on March 5th!
We'll learn more about their products, installation, details, and much more.
The location will be determined as we get closer to this event and know how many will attend.
You're welcome to invite other designers, builder clients, or anyone else that can benefit from learning more about Milgard products.
Date: March 5, 2018.
Time: 11:45 a.m. to 1:30 p.m. (Everyone is responsible for paying for their own lunch)
Location: TBD
RSVP by email or by phone: sam@morganfinehomes.com or 801-367-5380.
For more information, check out the AIBD calendar.
---
Don't forget to register for the AIBD Winter Conference!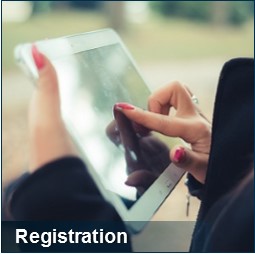 The AIBD's Winter conference is just around the corner.
The education scheduled:
Two sessions focused on American home styles – Mid Centry Modern and Arts & Crafts.
Unlocking BIM in your business.
Protecting yourself financially and legally.
An introduction to a new High Performance Home Design library of CAD details available through AIBD.
Register online: www.AIBD.org/winter-conference or call us at 1-800-366-2423 and register by phone.
Also available:
A guided walking tour of Tampa's historic Hyde Park neighborhood.
For educational session information CLICK HERE.
CLICK HERE for the schedule.
To register CLICK HERE.
---
---
Training
---
Upcoming StruCalc seminars:
AIBD members are welcome the participate in one of our free four hour StruCalc seminars to be held at various locations throughout the United States. Upon completion, you will receive a certificate for four hours of continuing education credit.
Seminars will be held at the following times and locations:
Tampa, Florida February 5, 2018
Orlando, Florida February 6, 2018
Houston, Texas February 13, 2018
San Francisco, California February 21, 2018
Sacramento, California February 22, 2018
Salt Lake City, Utah March 6, 2018
Boise, Idaho March 7, 2018
Spokane, Washington March 8, 2018
Austin, Texas March 14, 2018
San Antonio, Texas March 15, 2018
Dallas, Texas March 28, 2018
Denver, Colorado April 4, 2018
Las Vegas, Nevada April 24, 2018
Santa Ana California, May 15, 2018
North Los Angeles, May 16, 2018
Riverside, California, May 17, 2018
You can register for one of these events, or request for an event to be held in your area by clicking this link: http://www.strucalc.com/strucalc-seminars/.
---
How to Figure Out Job Cost
Managing your residential design business for success means that you have to monitor and make decisions based on many different variables. Each can be critically important to you at different times. However, the most critical constant you must track in any design business is job cost.
Click here to learn how to calculate job cost and make sure you're not undercharging.
---
Specifications: What's really needed?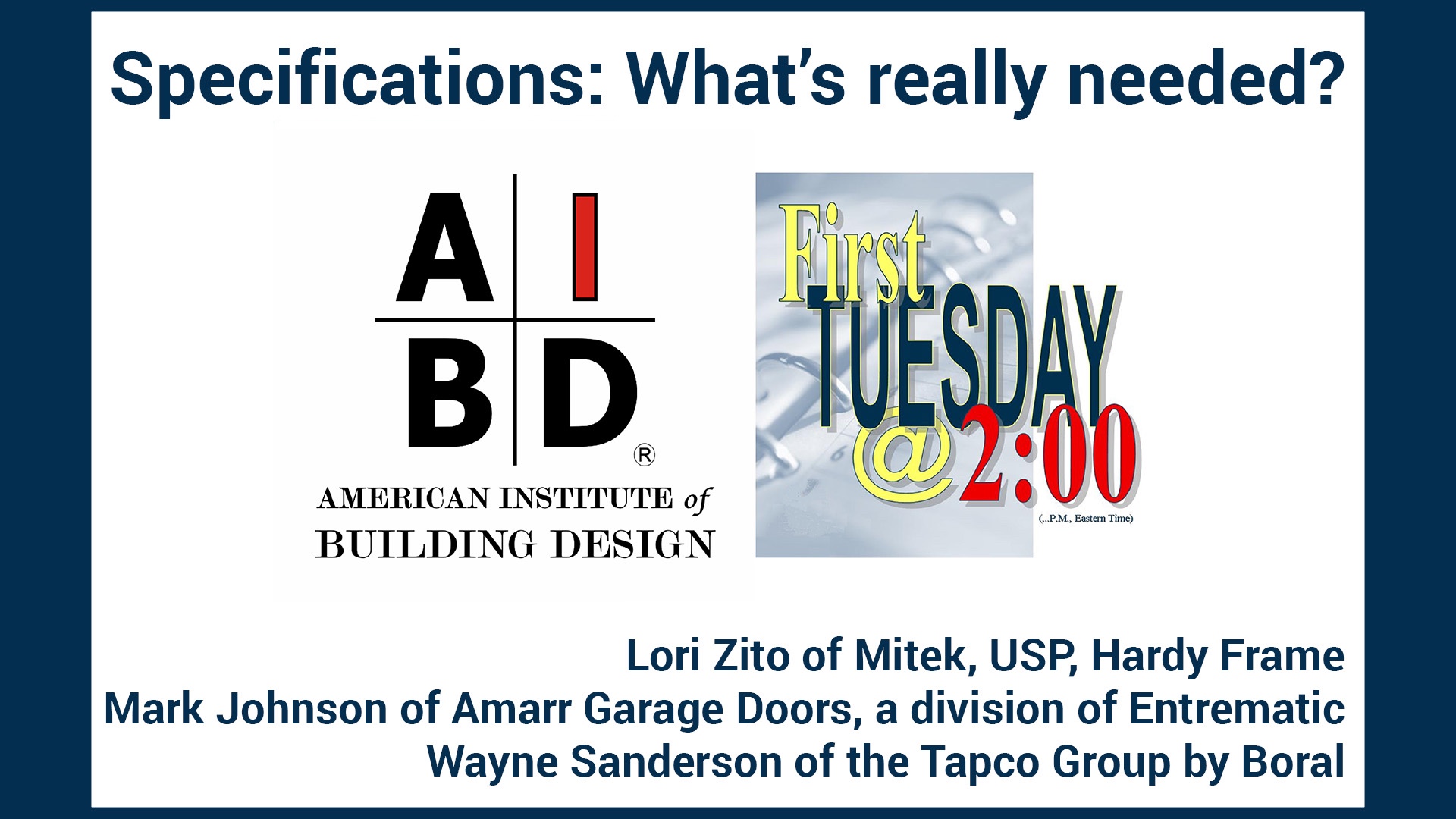 Joining us as our panel of manufacturer representatives and specification experts is Lori Zito of Mitek, USP, Hardy Frame; Mark Johnson of Amarr Garage Doors, a division of Entrematic; and Wayne Sanderson of the Tapco Group by Boral.
There are many factors to consider when specifying products. Join us for this recording of the First Tuesday @ 2:00 (p.m. EDT) and our panel of Corporate member to investigate the following questions.
What is your liability if you specify a product?
What is your liability if you don't?
Is the CSI format right for residential projects?
What format do you find most useful?
How can the manufactures help you more?
Certified Professional Building Designers (CPBD) will earn 1.0 Primary CE unit for completing the course.
To register, or just to get more information, click here. AIBD Members, enroll at a discount! Call 1-800-366-2423 or write info@AIBD.org for the member code.
The American Institute of Building Design (CPBD) believes in the consumer's right to decide who designs their home. AIBD supports that belief by providing education and resources designed to help the consumer make informed decisions and the professional practice at peak performance. Become a part of our mission. www.AIBD.org.
---
Upcoming Cadsoft events for the month of January, 2018: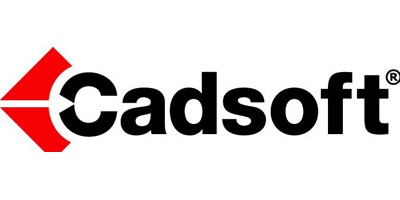 Walls Webinar
Envisioneer eLearning: Walls
Learn how to insert walls and edit their properties in a variety of ways so you can quickly and accurately create a floor plan.
When: Jan 23 @ 2:00 pm – 3:00 pm (Eastern)
Where: Online
Cost: Free
---
Roofs Webinar
Envisioneer eLearning: Roofs
Learn the following tools:
Editing a roof with a new plate height, pitch and slope
Adding a dormer
Adding a Flush Dormer
When: Jan 30 @ 2:00 pm – 3:00 pm (Eastern)
Where: Online
Cost: Free
---
---
SoftPlan online training for 2018
2018 SoftPlan Training Dates
---
Upcoming free GreenHome Institute webinars:
Optimizing the Indoor Environment for Health: Asthma, Allergies, and Building Materials – Free CEU Webinar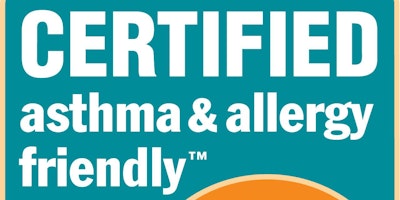 The prevalence of asthma and allergies in America and how to capture this growing consumer market
How to use a combination of science and education to raise awareness and demand
The importance of an independent scientific program in this area and why it is necessary
Builders and architects will learn how to influence their clients to purchase certified products to keep their homes healthy.
And more!
When: January 31, 2018, 12:00 pm – 1:15 pm (Eastern)
Where: Online
Cost: Free
---
Passive Solar Design and Online Tools for Window Shading Design, Analysis and LEED – Free CEU Webinar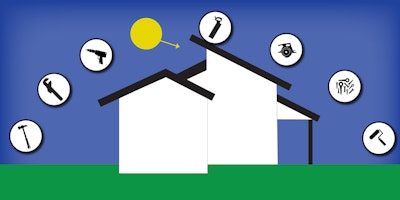 Know the importance of correctly addressing window locating and shading needs and how it fits in with LEED BD+C V4 Building Orientation for Passive Solar
Understand the seasonal and daily performance of horizontal window overhangs and how it helps with LEED BD+C V4 Building Orientation for Passive Solar
Articulate how to use design tools to determine instantaneous window shading from horizontal overhangs and if you can get credit in LEED BD+C V4 Building Orientation for Passive Solar
Understand how to use design tools to determine annual window shading from horizontal overhangs
And more!
When: February 28, 2018, 12:00 pm – 1:15 pm (Eastern)
Where: Online
Cost: Free
---
Understanding RESNET's Home Energy Rating System (HERS Index) – Free CEU Webinar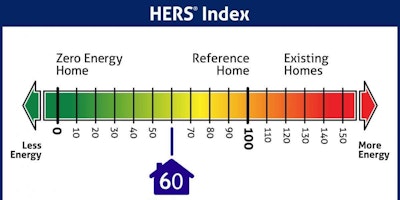 Describe how a Home Energy Rating works and ties into LEED BD+C V4 EA Annual Energy Use
Describe the process for conducting a Home Energy Rating that is required for LEED BD+C V4 Minimum Energy Performance and what impact it can have on occupant health
Explain how RESNET's Home Energy Rating System works with green building, LEED BD+C V4 Energy Budget, energy efficiency and utility programs as well as building energy codes;
Understand the requirements for becoming a HERS Rater and the health and life safety aspects of what Raters do.
And more!
When: April 11, 2018, 12:00 pm – 1:15 pm (Eastern)
Where: Online
Cost: Free
---
You can check out all GreenHome Institute's events at https://greenhomeinstitute.org/events/.
---
Attend the Roofing Industry's Best-Practices Seminar in Residential Attic Venting
Air Vent's best practices in residential attic ventilation seminar turns 20 in January. You're invited to attend any of their 25 stops across North America during quarter one of 2018. Over 23,000 roofing professionals have participated in sharing these industry tips; don't be the only one who hasn't.
Here's a list of the upcoming live events' locations and dates:
Columbia, MO – January 23, 2018
Topeka, KS – January 24, 2018
Grapevine, TX – January 26, 2018
Birmingham, AL – January 30, 2018
Pearl, MS – January 31, 2018
Houston, TX – February 1, 2018
Malvern, PA – February 14, 2018
Schaumburg, IL – February 15, 2018 (10 a.m. brunch, 10:30 a.m. – 12:30 p.m. seminar)
Buffalo, NY – February 20, 2018
Vaughan, Canada – February 21, 2018
Novi/Livonia, MI – February 22, 2018
Kalamazoo, MI – February 23, 2018
Fort Collins, CO – February 28, 2018
Denver, CO – March 1, 2018
Independence, OH – March 6, 2018
Dublin, OH – March 7, 2018
Indianapolis, IN – March 8, 2018
Des Moines, IA – March 13, 2018
Madison, WI – March 14, 2018
Bloomington, MN – March 15, 2018
Raleigh, NC – March 20, 2018
Columbia, SC – March 21, 2018
Click here for more information about these events.
---
---
Miscellaneous
---
Welcome new AIBD members!
Please help us welcome those who joined or rejoined AIBD this past week.
Don Anderson
John Bishop
Howard Edgemon
Toby Leynse
FL
NC
CA
FL
Associate
Associate
Associate
Associate
We are pleased you have chosen AIBD as a resource for professional and personal growth. Membership provides technical information, advocacy, professional networking opportunities, as well as participate in programming sessions offered at various conferences throughout the year. All designed to help advance your career.
Visit "SearchHomeDesigners.com" to reach out and exchange information with other professionals in the building designer industry supporting the AIBD mission.
---
The AIBD job board has been improved!
The AIBD job board has been improved in both design and usability!
Whether you're looking for a job, or looking to hire someone, this is the best job board in our industry.
If you're looking for work, it's free to post your resume. This is great because if you're looking for work, you're probably pinching pennies until you get it. If you're a student, we understand your student debt is high enough. You won't have to pay anything to seek employment through our job board.
If you're looking to hire some help, you can use our job board to search for quality candidates. You'll be able to browse the resumes for free, and contact the candidates for free. You'll pay only when the candidate is interested in your position. Hiring the right person is an investment in your company, and saving time with our easy to use job board will free you up to focus on other tasks.
Go check out the job board right now at AIBD.org/jobs.
Also, if you're looking to hire, don't forget that we have training on the right way to hire employees. AIBD members can take this course for free; just give us a call at 800-366-2423 or email us at info@aibd.org.
---
AIBD wants to promote your event or content!
In the last six months, we've more than doubled the traffic to our AIBD blog. We're hitting well over 7000 views per month.
This is great because it gives the AIBD more exposure, which leads to more subscribers to our MondayMINUTE newsletter, and ultimately more AIBD members.
As an AIBD member, you have access to this resource. You deserve a piece of those 7000 views.
All you need to do is write a blog post and submit it to us!
For more information on how to get your content onto the AIBD blog and/or in the MondayMINUTE, check out this blog post.
We are also accepting entries for this newsletter, the MondayMINUTE. Entries MUST be received by end of day Thursday. Any entries received Friday morning or later will be in the next week's newsletter.
---
Join AIBD's industry e-newspaper.
Want to know what's going on in your industry but don't have time to surf the web, follow Twitter, or sift through the useless posts on Facebook? Now you can. We'll filter out the senseless stuff and deliver relevant industry news, trends and ideas directly to your inbox every weekday. Subscribe today for FREE.
The #HomeDESIGN Professional Daily is a content curation subscription that turns socially shared industry news into a useful online newspaper. Last week's editions included the world's first smart streets, a 3D printed office of the future, how small firms keep up, and more. The paper is organized in sections – Science, Business, Technology, Environment, plus daily sections. There are instructional videos, interviews and inspirational photographs.
---
Motivation for your Monday!
"A pat on the back is only a few vertebrae removed from a kick in the pants, but is miles ahead in results." – Ella Wheeler Wilcox
---
Follow the AIBD Facebook Page!
Click here to go to the page now.
---
---
---
CLICK HERE and to learn more about AIBD events!
Your designs could make you money while you sleep.
Learn how to leverage contemporary digital marketing techniques to land more clients or sell your own plans online. Subscribe now to get started.